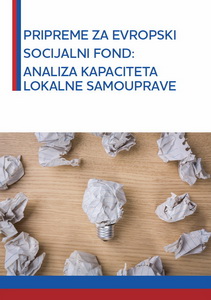 The Social Inclusion and Poverty Reduction Unit of the Government of the Republic of Serbia, in cooperation with the Standing Conference of Towns and Municipalities, prepared the publication "Preparations for the European Social Fund: Analysis of Local Self-Government Unit Capacities".
The analysis aimed to explore the issues of successful use of European Union funds intended for the human resources and social development sector at the local level, as a forerunner of the European Social Fund, to contribute to improving the capacities of local self-government units in this field.
Experiences of those European Union member states acceding during the last waves of enlargement showed that the efficient use of European Union funds requires, in addition to a readiness at the national level of authority, the readiness of regional and local levels of authority, as well as the participation of civil society. The key factors of success in the use of European Union pre-access funds intended for the development of human resources as a forerunner to the European Social Fund are the existence of a quality integrated development strategy at the local level, having adequate administrative capacities in local self-governments, institutions and organizations for the independent preparation and implementation of projects, as well as a sufficient level of financial funds for the pre-financing and co-financing of projects.
The results of the survey have shown that the local level of authorities in Serbia has certain administrative capacities and experiences in the process of preparing and implementing projects financed from European Union funds. However, the analysis also indicated the necessity for coordinated activities by local self-governments and all relevant institutions at the national level of authority, for the improvement of the capacities of local self-governments for managing European Union funds and their efficient and transparent use at the local level, once Serbia becomes a European Union member state.