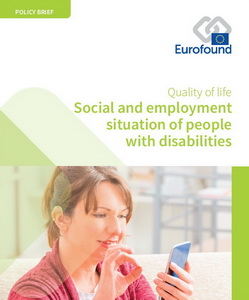 People with disabilities are among the most disadvantaged groups in the EU. This policy brief examines the social situation of people of working age with disabilities, using data from the 2011 and 2016 rounds of the European Quality of Life Survey (EQLS).
The brief looks at changes over this period in employment, education and training, participation in society, social protection and healthcare, all priority areas of the European Disability Strategy. The brief also looks at the subjective well-being of this group of Europeans and examines the factors that influence their well-being.
Among its policy pointers, the brief highlights the work that must be done to improve the employment situation of people with disabilities.
Download: Social and employment situation of people with disabilities (.pdf)
Source: www.eurofound.europa.eu