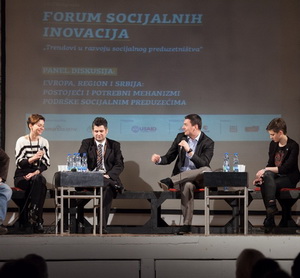 Social Enterprises contribute to achieving important social goals, such as increasing employment, social inclusion and inclusive development, and therefore it is necessary for Serbia, in accordance with European policies, to adopt a systemic approach in their empowerment, concluded the participants of the second Social Innovation Forum held on 1 April at the Rex Cultural Center, organized by Smart Kolektiv and the Business Leaders Forum.
The greatest social entrepreneurship event in Serbia – the Social Innovation Forum, was the ground for presenting existing policies, options for cooperation among social enterprises and the business sector, various support programmes, successful social enterprises and innovative practices in the area.
"The main conclusion of this year's conference is that social enterprises need stimulation by the state, which should adopt a systemic approach to their support, as is the case in European countries where there are special regulations and policies aimed at supporting social entrepreneurship. It is necessary to provide a favorable environment for their improvement, involving the promotion of social entrepreneurship, improvement of the legal framework, financing, enabling access to markets, as well as support to training and research in the field of social entrepreneurship", said Neven Marinović, the director of Smart Kolektiv.
This year's Social Innovation Forum is part of a wider initiative of promoting and stimulating intersectoral cooperation and the development of a sustainable and innovative civil society in Serbia, implemented by Smart Kolektiv with the support of USAID.
Source: www.euractiv.rs