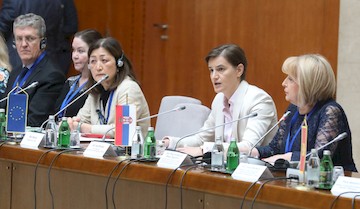 Prime Minister of the Republic of Serbia Ana Brnabić stated on 13 September that poverty reduction, improved quality of education, a healthy environment, economic promotion and strengthening of institutions represent key sustainable development goals. Opening the subregional conference on progress in the implementation of the 2030 Agenda, Brnabić noted that even though tendencies towards their achievement may seem utopian, we must continue our progress towards a society where no one will be excluded or forgotten.
She says that the goals are global, but the paths towards their realization differ for each country, while the implementation is a joint task for the Government, civil society, academic community, local communities and international institutions. In this regard the Prime Minister noted that Serbia was among the first to form the Intersectoral Working Group for the Implementation of the 2030 Agenda in December 2015, while the National Assembly of Serbia was also among the first worldwide to produce a capacity assessment for the achievement of goals and formed a focus group supervising Government activities in this area.
The Government of the Republic of Serbia, she added, is paying particular attention to education, economic development and a reduction in greenhouse gas emissions, along with measures for climate change prevention and adaptation. A precondition for building a modern Serbia, Brnabić said, is a modern economy, adding that after a period of fiscal consolidation the state is continuing with economic reform. The Prime Minister reiterated that the reform of education is a key priority for the Government, i.e. that youth need tools for critical and analytical thinking regardless of the work they will do.
The Prime Minister further elaborated that EU accession is of great importance for the progress of Serbia and all of the Western Balkans, since the 2030 Agenda and the Strategy for the Development of Europe and South-Eastern Europe by 2020 overlap to a great extent.
The conference on progress in the implementation of the 2030 Agenda, held on 13 September at the Palace of Serbia, was organized by the Government of the Republic of Serbia, with the support of the United Nations Country Team in Serbia and the German Organization for International Cooperation (GIZ). The event gathered representatives of regional governments, the private sector, international institutions, and focussed particularly on social inclusion and sustainable development, as well as the promotion of market economy.
Source: www.srbija.gov.rs