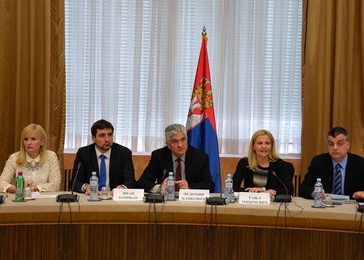 The first meeting of the working group was held at the Palace of Serbia on 7 April, aimed at drafting the special Action Plan for the Implementation of the Existing Normative Framework for the Protection of National Minorities.
Tanja Miščević, head of the Negotiation Team for the accession of the Republic of Serbia to the European Union, noted that the Action Plan should respond to EU recommendations, in order to secure continued improvement of the status of members of national minorities.
The director of the Office for Human and Minority Rights of the Government of the Republic of Serbia, Suzana Paunović, stated that the Office will use its full capacities to provide support during the drafting of this important document, and continue to coordinate between the Government ministries and practical affairs.
According to Čedomir Backović, assistant to the Minister of Justice and head of the negotiation group for chapter 23 of the EU negotiations and chairman of the working group, the Action Plan primarily needs to be implementable and achievable in the coming period, having in mind that the quality of the plan can largely determine the rhythm of opening chapter 23.
The meeting was attended by representatives of the national councils of national minorities, representatives of state bodies and institutions, as well as representatives of international and non-governmental organizations.
Source: www.ljudskaprava.gov.rs