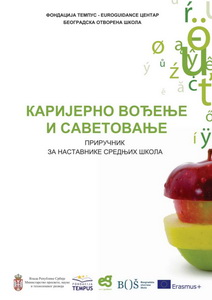 The national Euroguidance center – European Networks for Support to Career Guidance and Counselling, in cooperation with the EU Info Center, started a new cycle of seminars for secondary school teachers at the Belgrade Youth Center entitled "Career Guidance and Counselling in Secondary School".
The seminar will present the manual intended for secondary school teachers containing examples of CG&C activities implemented in secondary schools. The goal of such a manual is to unify and present good practice examples that would guide teachers in designing their own activities adapted to the specific situation, needs of the student, and the environment. This principle "from teachers to teachers" emphasizes specific activities, provides practical advice to prepare teachers and, primarily, presents those activities that have shown success during current practice.
The electronic version of the manual can be downloaded from the website of the Euroguidance center. At the same website you can also access the database of individual CG&C activities (good practice examples) intended for secondary school teachers.
Source: europa.rs