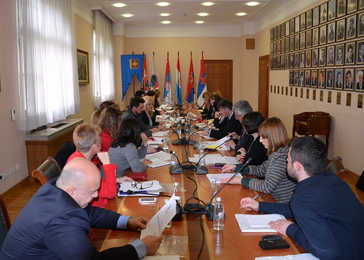 The constitutive session of the Council for Monitoring the Implementation of the Recommendations of the United Nations Mechanism for Human Rights, chaired by Suzana Paunović, was held on Friday, 27 March 2015.
Serbia is making progress in respecting human and minority rights, and the founding of such a body shows the dedication of the Government of the Republic of Serbia to continue in the right direction, assessed Paunović. The Republic of Serbia submits regular reports to UN bodies and receives recommendations from them aimed at improving respect for human and minority rights, and at the moment, Serbia has 367 recommendations issued by UN human rights mechanisms, said Paunović.
The weakest assessment in the reporting process, as explained by Paunović, was in regards to monitoring actions based on recommendations by international bodies, which was the main reason for founding the Council, in order to systematically regulate all important issues in the system of policy implementation related to human and minority rights.
Paunović states that the work of this Council should stimulate the achievement of the following goals: improvement of communication between state bodies in analyzing the situation and preparing the report; improving cooperation between state bodies and institutions and other relevant actors; improving institutional memory regarding these issues and improving the process of implementing recommendations.
The work of the Council is important because of the process of reporting and communication with UN mechanisms, as well as the negotiation process with EU (particularly chapters 23 and 24), but its primary task is improving the human rights situation in Serbia, emphasized Paunović.
The Council session, in addition to the members, was also attended by representatives of independent regulatory bodies, the ombudsman and commissioner for information of public importance and protection of personal data.
Source: www.ljudskaprava.gov.rs