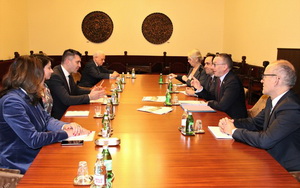 The Ministry of Labour, Employment, Veteran and Social Affairs of the Government of the Republic of Serbia stated that the Dignified Work Programme 2019-2022 was signed on 7 March, envisaging joint activities by the Government, social partners and the International Labour Organization, aimed towards achieving the highest labour and social welfare standards.
The document was signed by Labour Minister Zoran Đorđević, Assistant to the General Director of the International Labour Organization and Regional Director for European and Central Asia Heinz Koller, Deputy President of the Serbian Association of Employers Ivan Kovačević, President of the Association of Independent Trade Unions of Serbia Ljubisav Orbović and the President of UGS "Nezavisnost" Zoran Stoiljković.
Đorđević stated that it is the state's obligation to ensure dignified work for all its citizens, adding that the Government wants young people to stay in Serbia, to complete their education here, to work and establish their families, and to use their knowledge and efforts to make our country an even better place to live.
He said that the Ministry is actively working to improve the status of workers through proposals for amending old laws, securing re-qualification and additional qualifications, and preventing unregistered labour.
Although we often have opinions that differ from those of employers and unions, they often bring the best solutions. Only by working together and exchanging ideas can we make the decisions that are best for our citizens, whether they are workers or employers, notes Đorđević.
The Minister assessed that it is important for all of the above stakeholders to have a common goal, the creation of a modern, rich and developed Serbia, tailored to the needs of all its citizens.
Source: www.srbija.gov.rs