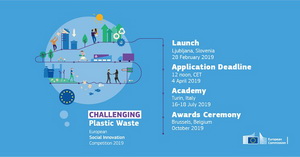 The European Social Innovation Competition (EUSIC) is a challenge prize run by the European Commission across all Horizon 2020 associated countries.
Organised in memory of Diogo Vasconcelos, the Competition calls all Europeans to come up with solutions to the problems affecting our society.
This year's competition is launched with an event in Ljubljana on 28 February.
2019 theme: Challenging plastic waste
The European Social Innovation Competition is looking for ideas and projects that reduce plastic waste and littering through changing and improving existing processes or through introducing brand-new products and initiatives. These innovations need to reduce the amount of plastic waste created or encourage and enable the greater re-use and recycling of plastic waste.
Solutions should be scalable and target change at the systemic level: either locally, nationally or Europe wide, and be rooted in one of the following areas:
Reducing the consumption of single use plastic products
Recycling reusing, and upcycling existing plastic waste
Dealing with accumulated plastic waste in landfills and the environment
Changing consumer behaviours, retail and wider business practices to reduce levels of plastic waste and/or increase recycling and re-use
Implementing alternative business models and optimising supply chains to reduce plastic waste and/or increase recycling and re-use
Introducing new materials fit for a circular economy or that offer sustainable alternatives to fossil-based plastics.
The competition process
The competition has 3 phases:
Phase 1: Out of the total of eligible entries received by the deadline, 30 semi-finalists will be selected to receive mentoring support and further progress their ideas. They are invited to take part in a Social Innovation Academy in Italy and to network with other European organisations and potential partners in their field.
Phase 2: Out of the 30 semi-finalists, 10 finalists will be invited to the awards ceremony where the 3 final winners received a prize of €50,000 each.
Phase 3: in 2020, the competition amongst the 30 semi-finalists will be re-opened and award the 2019 project having achieved the most significant results with an impact prize of €50,000.
To select the best entries throughout the competition, the European Commission is supported by an external jury.
Timeline of the competition
Launch of the competition: 28 February, Ljubljana​
Deadline to submit an entry: 4 April 2019 (noon, CET)
1st jury meeting in Brussels: 21 May 2019
Announcement of the 30 semi-finalists:  June 2019
Social Innovation Academy for semi-finalists: 16-18 July 2019, Turin
Submission of detailed plans by semi-finalists:  August 2019
2nd jury meeting in Brussels: September 2019
Announcement of the finalists: September 2019​
Awards Ceremony: 24 October 2019​, Brussel
The competition is open to individuals, groups and organisations across the European Union and in countries participating in the European Horizon 2020 programme (see list).
For more information, competition entry forms, rules of contest and FAQs visit ec.europa.eu