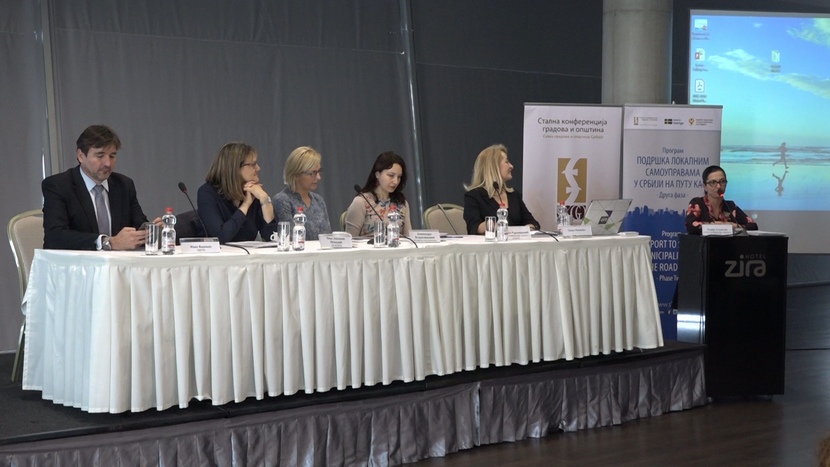 The majority of local self-governments in Serbia has not been successful yet in including gender-sensitive budgeting in their budgets, but around 30 to 35% of them are good practice examples for how to do this in the coming period, assessed the participants of a conference held in Belgrade on 19 April. Trainings have been announced for local self-government representatives on gender sensitive budgeting.
The event on gender sensitive budgeting was organized by the Standing Conference of Towns and Municipalities (SCTM) as part of the programme "Support to Local Self-Governments in Serbia on the Path towards the EU – Phase Two", financed by the Government of Sweden.
State Secretary at the Ministry of Public Administration and Local Self-Government Ivan Bošnjak assessed that gender sensitive budgeting is not just a challenge, but also a sustainable achievement at all levels of administration in Serbia.
"During the past two years the Government of Serbia, along with its partners, invested the most effort on professional development, capacity building and knowledge development in local self-governments on all relevant topics, including gender sensitive budgeting", he said.
Bošnjak said that gender sensitive budgeting was introduced by the 2015 Law on the Budget System.
Manager of the EU programme "Exchange 5" at SCTM Milena Radomirović said that 70% of local self-governments in Serbia are successfully applying programme budgets. She said that trainings will be implemented during the coming period for representatives of local self-governments regarding the introduction of gender sensitive budgeting.
The representative of the UN Women agency Olja Janković Leković said that this organization has been working on the introduction of gender sensitive budgeting at the national and provincial level since 2008.
"The introduction of gender sensitive budgeting is an area where Serbia is among one of the most progressive European countries", said Janković Leković.
She said that the successful introduction of gender sensitive budgeting in local self-governments in Serbia requires cooperation between those working on finance, those programming budgets, and the non-government sector working on defining gender sensitive groups.
Independent consultant Aleksandra Vladisavljević stated that one of the major issues when introducing gender sensitive budgeting at the local level is the planning process in municipalities and towns and the insufficient participation of gender equality bodies in this process.
Vladisavljević said that the staff of local self-governments in Serbia should abandon "ad hoc" planning and move to systemic planning, identify whether there are local mechanisms and human resources for a successful process of introducing gender sensitive budgeting.
General Secretary of SCTM Đorđe Staničić said that his organization does not see gender equality as an individual activity, but as "something that permeates all other SCTM activities".
He said that SCTM works on programme budgeting, which in turn completely changes the decades-long practice of budget drafting, since all budget expenses are tied to specific activities and goals to be achieved.
Source: Beta, taken from www.euractiv.rs