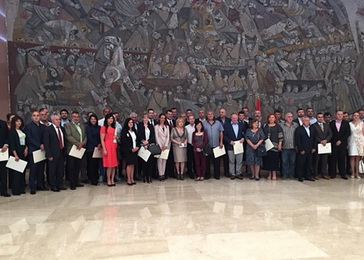 Minister without portfolio charged with demographics and population policy, Prof. Dr Slavica Đukić Dejanović, awarded contracts on 23 July for grants for co-financing population policy measures to representatives of 61 local self-governments whose projects were accepted in the Public Call.
RSD 79 million has been allocated for the procurement of machinery and equipment for starting one's own business for married couples. Particular attention was paid to the employment of women in their reproductive age, particularly young mothers from agricultural holdings. The procurement of 7 ultrasound devices and required medical equipment, and 13 vehicles for medical field services was approved to improve working conditions in gynaecological departments and the medical field service, to an amount of RSD 60 million. The founding or empowerment of advisory services for pregnant women, reproductive health, parenthood schools and advisory services for youth will be co-financed in 14 local self-governments to an amount of RSD 25 million, while RSD 16 million is allocated for the construction of houses and apartments for young married couples.
The public call received 71 applications submitted by 119 municipalities, with the right of participation open to municipalities individually or in cooperation with other municipalities from the same region to implement joint population policy measures. A total of 61 local self-governments will be financed based on the evaluation and ranking list of projects, namely: 14 in Vojvodina, 21 in the region of Šumadija and Western Serbia, and 26 in Southern and Eastern Serbia.
Source: mdpp.gov.rs