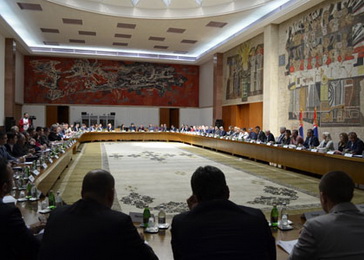 Agreements on awarding grants for co-financing population policy measures by local self-government units in the Republic of Serbia in 2019 have been signed on 16 April with representatives of 85 local self-government units. A total of 650 million RSD was secured for these purposes from the budget.
The Minister without Portfolio charged with demographics and population policy Prof. Dr Slavica Đukić Dejanović said that this sum is RSD 150 million higher compared to 2018, and that it is five times as much compared to 2017.
"The public call received 122 applications this year, and 85 local self-government units will be financed", elaborated the Minister and explained that the majority of funds were allocated for the reconstruction, adaptation and construction of preschool institutions for 56 local self-government units. She said that RSD 420 million has been allocated for this purpose, thus opening room for another 2,000 new places in kindergartens. The Minister emphasized that 22 young married couples were also supported through the co-financing of houses and apartments, and that in addition to roofs over their heads, co-financing will also be provided for starting own businesses for young married couples in rural environments. She also added that funds have been secured for 22 vehicles and bicycles for the field nurse services in health centres, and for medical equipment necessary for improving working conditions in gynaecological units of healthcare institutions.
Greater attention was given to counselling work, particularly regarding reproductive health, education of adolescents and teachers in preschool institutions, counselling centres for early child development and improvement of parental competences and development of partnership in child development, education of women in villages, promotion of fatherhood and education of the Roma population on immunization, elaborated the Minister.
More information at www.mdpp.gov.rs