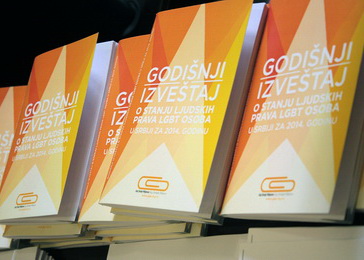 The Gay Straight Alliance (GSA, the Alliance) presented, in the National Assembly of the Republic of Serbia, its Annual Report on the Status of Human Rights of LGBT Persons in Serbia for 2014 (the Report).
Since 2007 GSA has been preparing and editing annual reports encompassing issues in regards to the LGBT population, with the focus of the report on documented cases of violence and discrimination based on sexual orientation and gender identity reported to GSA during the year, as well as cases processed before courts in Serbia by the Legal Service of GSA.
In the presence of numerous guests of the presentation, deputies, representatives of various institutions, local and international organizations, diplomatic corps, eminent experts and representatives of political parties, the Report was first presented in the building of the National Assembly of Serbia, with speeches by high-level officials from the executive and legislative authorities, representatives of the international community present in Serbia and the non-governmental sector.
Other LGBT organizations, in addition to GSA, also took part in preparing the Report for 2014, while contributions for the Report regarding their work and activities during the past year were also submitted to the Alliance by the Ministry of Youth and Sports, Ministry of the Interior, Ministry of Justice, Ministry of Defense, Office for Human and Minority Rights of the Government of the Republic of Serbia, the Negotiation Team for Serbia's Accession to the EU and the Social Inclusion and Poverty Reduction Unit of the Government of the Republic of Serbia.
Source: gsa.org.rs