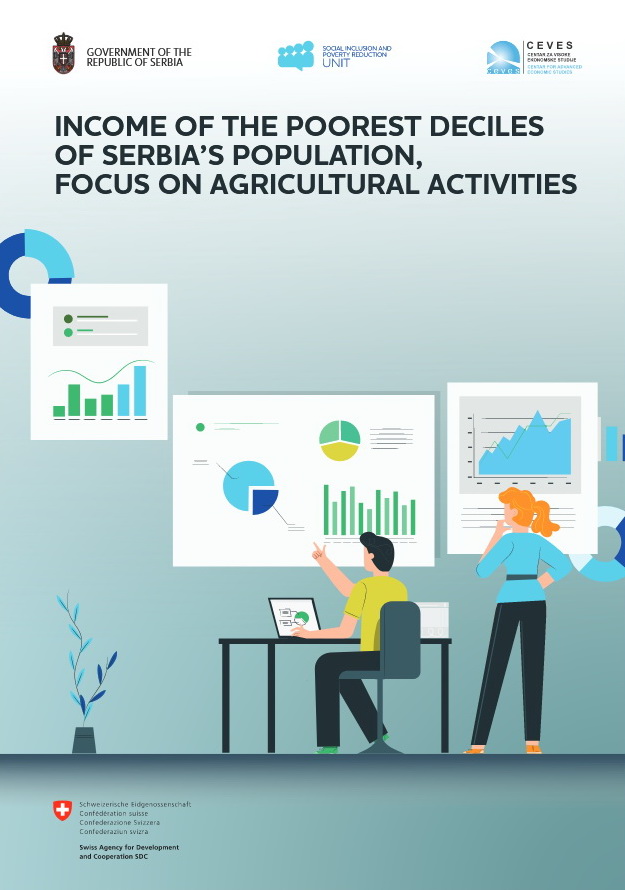 The Social Inclusion and Poverty Reduction Unit of the Government of the Republic of Serbia has published an analysis titled Income of the Poorest Deciles of Serbia's Population: Focus on Agricultural Activities.
The analysis provides a detailed insight into the income structure of the poorest deciles and – by considering the methodological approaches applied in the Survey on Income and Living Conditions (SILC) as an internationally comparable tool for the assessment of poverty, inequality and social exclusion, Household Budget Survey (HBS), EU-SILC practices and information available from the Farm Structure Survey (FSS) – suggests possible courses of action to further improve measurement with a view to more precise income assessment.
The Unit sincerely thanks the authors Danijela Bobić and Pavle Medić and gratefully acknowledges important contribution from Kori Udovički, President of the Governing Board and Chief Economist at the Center for Advanced Economic Studies (CEVES).
Also, the Unit owes special gratitude to Nataša Mijakovac, Head of the Unit for Consumption and Living Standard Statistics, and her team from the Statistical Office of the Republic of Serbia – Gordana Cvetinović, Marija Mucić, Nikola Križnik, Milica Bjelobrk, Milica Tanasić, Nevena Pavlović and Jelena Suzić.
The publication is available for download on the following LINK.