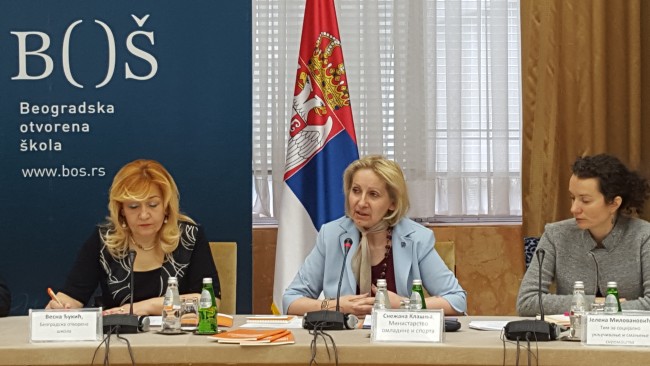 The #PRaksam project, implemented by the Belgrade Open School with the financial support of the Ministry of Youth and Sports, was completed to the satisfaction of 28 young people who had the opportunity to complete the organized professional internships programme, 18 companies who showed confidence in them, as well as the Ministry of Youth and Sports, the Chamber of Commerce and Industry of Serbia and other partners involved in the project.
"More than half of all young people (55%) have not completed internships during their education, as shown by the survey on the status and needs of youth implemented in 2015," said Assistant Minister at the Ministry of Youth and Sports Snežana Klašnja during her opening address at the conference "Internships as a Bridge between Education and the Labour Market".
However, one key instrument for positive change is the development of the National Internship Programme, envisaged by the draft National Youth Employment Programme by 2020 prepared by the Ministry. The programme will define national standards to establishing the minimum and mandatory quality of internships, thereby facilitating the transition into the labour market and finding their first job for young people completing their education.
Source: www.mos.gov.rs