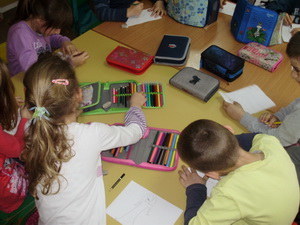 A pilot project was implemented in Valjevo in late 2016, organizing workshops for parents of children aged 3 to 5 years from the Roma settlement Balačka, to choose to enrol their children in the educational system as early as possible.
Milena is 18 months old and is the youngest child of mommy Julka, the nickname everyone uses for the always smiling Guler Šerifoska. She is one of the residents of the Roma settlement Balačka near Valjevo. Other than Milena, Julka has an older son Aleksa (6) and a daughter Anđela (4). Since last fall the two of them have been attending kindergarten, each in their age group, and they spend the time between 08:00 and 11:30 each day in the building attached to PS "Prota Mateja Nenadović" in Brankovina, 7 km from Balačka.
The smiling mommy Julka says that she will enrol Milena in a kindergarten as soon as she is three.
– It is important, of course it is important for her to attend kindergarten! To play with other children, to learn something nice. I remember how I loved going to the kindergarten, says the former resident of Belgrade, who moved near Valjevo seven years ago, out of love for her husband Dragan.
As soon as she and her husband had heard of the workshops organized in late 2016 by the association "Rom" and the City of Valjevo, they decided to participate. The preschool institution "Milica Nožica" – the closest to the settlement of Balačka, where 400 Roma persons live – organized working meetings, to show young parents the importance of early inclusion of children in the educational system. Each of the twenty workshops that involved all the parents of children enrolled in the facility were attended by 12 to 15 Roma parents. The result is six children enrolled from Balačka. Unfortunately, there were also those who gave up. (…)
According to Dejan Marinković, president of the association "Rom" and the municipal coordinator for Roma issues, the money for the project was allocated from the local action plan for children. (…) Veroljub Tešić, a pedagogic assistant, says that if a child is included into the educational system at an earlier age, it finds it easier to later scale the steps towards acquiring knowledge. (…) This claim is supported by the preschool teacher Jasmina. She says that, according to results, a girl from a Roma family is one of the best in the preschool group, and that children do not pick play friends according to the families they come from, but based on each other's favourite games. (…)
Mommy Julka hopes that her children will complete at least primary school.
– I have primary school. Dragan attended four grades, and now, as an adult, he completed all eight grades in night school. Our children must be better than us. Only that way will they be able to find jobs and live better than us.