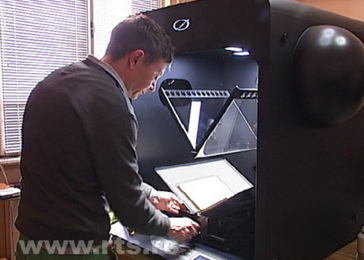 Several weeks ago the University Library of Belgrade received a latest generation robot-scanner. It independently scans and copies, making books part of the digital library immediately. It is intended for students with disabilities, but will help accelerate the process of digitalization, preservation and availability of all materials kept at the library for a wider circle of readers.
The latest-generation robot-scanner, of a type only a few other European libraries have, can scan up to 2,500 pages in an hour, transferring books into digital format. The greatest benefit in this is for students with vision impairments, because they can use such books on their own, using special software.
"The literature they require will be scanned, then converted from pictures to text, and then using text-to-speech software installed on their computers that serves to read text out loud, they will actually be able to hear the content and thus study", explains Ljupka Mihajlovska from the Center for Students with Disabilities.
All materials thus digitalized will be accessible to all university libraries in Serbia. Opening this new copy shop in addition to the old one was the result of the efforts of the "EquiEd" project within the Tempus programme. This is just part of the equipment and technology procured to assist secondary school and higher education students.
Source: www.rts.rs