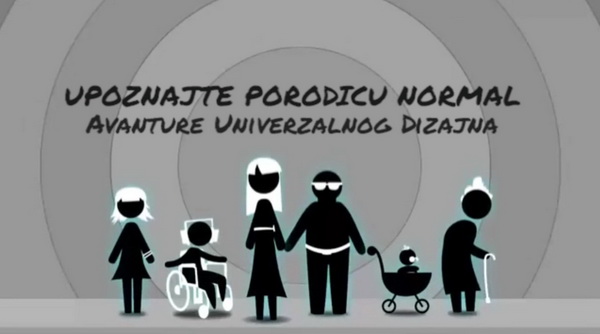 We can see the Normals family every day it its environment. It consists of older and younger members. They work, go to school, go to the shops, post office, cinema… Just like anybody else. Then, why should we meet them?
"Meet the Normals – Adventures in Universal Design" is an animated story about the significance of universal design – design for all, which presents the family and the barriers they face on a daily basis in a very straightforward way using illustrative examples. These barriers can be removed by the design that enables equal participation of every member of society, whether it is a baby in a stroller or an old lady with a walking cane. That is why this design is universal – it features solutions that enable general physical accessibility and accessibility to information for all.
Universal design is the design conceived at the intersection of various societal needs and one that produces solutions suited to everyone.
Universal design and accessibility are topics that we had the opportunity to discuss at a number of panel discussions during the Accessibility Awareness month, organised to mark this year's National Day of Giving, under the slogan "Serbia without Barriers". The last panel discussion, Serbia without Barriers – Positive Examples of Accessibility in our Society, was organised in cooperation with the Social Inclusion and Poverty Reduction Unit of the Government of the Republic of Serbia and the Serbian Philanthropy Forum.
In collaboration with Ireland's Centre for Excellence in Universal Design and the Serbian Association of Deaf and Hard of Hearing Persons, the Social Inclusion and Poverty Reduction Unit dubbed the video "Meet the Normals – Adventures in Universal Design" in Serbian and added the sign language, to make it accessible to everybody.
The video with Serbian dubbing can be viewed here, the version that includes both the Serbian dubbing and subtitles is available here, while the video with subtitles and sign language can be seen here. The original version in English can be accessed via this link.
The video "Meet the Normals – Adventures in Universal Design" was created by the Centre for Excellence in Universal Design of Ireland's National Disability Authority, in partnership with the Dublin Institute of Technology, the Maynooth National University of Ireland, Dundalk IT, the National Learning Network, Cambridge University, the Cork Institute of Technology (CIT) and the Institute of Technology Blanchardstown, as part of the project of "Integrating Universal Design Content in Third Level Curriculum"
See below the animation "Meet the Normals – Adventures in Universal Design", with Serbian dubbing and sign language interpretation: