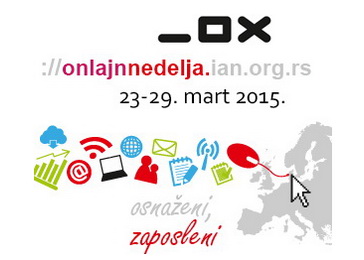 Online Week is an annual European campaign aimed at spreading literacy in the field of information-communication technologies. This year, Online Week was held between 23 and 29 March across Europe, with Serbia participating in the campaign for the sixth year running, stimulating digital inclusion and digital empowerment of citizens through diverse activities.
During this week, schools, libraries, public services, non-governmental organizations and IT companies across Europe joined together to organize a number of interesting events, trainings and competitions and emphasize the key role of IT in today's society.
Digital literacy was declared, based on a recommendation by the European Parliament, as one of the 8 key competences representing a set of knowledge, skills and attitudes in regards to information technologies needed by every individual for personal development, social inclusion and employment.
Being digitally literate is a requirement of the modern age, while in Serbia, nearly a third of the population is digitally illiterate, and 33% of its citizens have never used the internet. The Online Week aims to improve these statistics in our country as well.
Source: IAN Telecentar