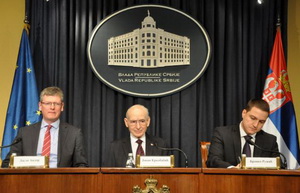 Deputy Prime Minister of the Republic of Serbia and Minister of Labour, Employment and Social Policy Jovan Krkobabić and Minister without Portfolio in Charge of European Integrations Branko Ružić, had talks with the Commissioner for Employment, Social Affairs and Inclusion of the European Commission László Andor, on 26 September 2013 in Belgrade.
The visit of Commissioner Andor to the Government of the Republic of Serbia marks an onset of the process of creating a programme for reforming employment and social policies, by means of which Serbia should commence a strategic process of solving accumulated problems in this area, with support from the EU.
During the meeting a conclusion was reached that the programme should focus on the major challenges in Serbia in the areas of employment and social policy. This will prepare the country for a comprehensive social reform and its medium and long-term implementation.
The adoption and implementation of this strategic document is of key importance, since the figures show that nine percent of the population lives below the poverty line, that unemployment rate is 24 percent, while the youth unemployment rate is 50 percent.
Inclusion of Roma and other minority groups, rights of children, and all other segments of socially just environment which Serbia strives for were discussed during the meeting.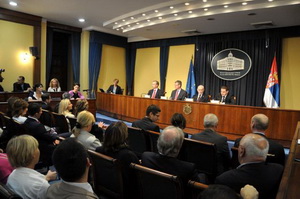 Laszlo Andor stressed that the programme aims to prepare candidate countries for future participation in European employment and economic management policy. The development of the programme was initiated by strategic dialogue which had been set in motion.
Andor emphasized that economic crisis has left huge trace in Serbia in terms of increased unemployment rate, poverty and social differences, and the alarming level of unemployment among the young, which is a matter of particular concern.
Andor is convinced that creation of new jobs is especially challenging, while Serbia should be encouraged to create a new economic model.
Serbia needs to do more in order to specialise its workforce for sustainable development and train future workers for certain occupations.
Source: www.srbija.gov.rs