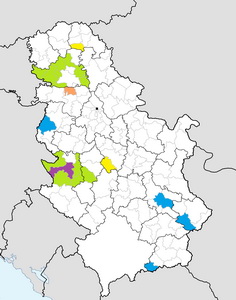 The goal of the Programme was to contribute to improving social inclusion and poverty reduction in Serbia by providing support to the development and implementation of effective social inclusion policy measures at the national and local level.
The programme "Local Initiatives for Increasing Social Inclusion and Reducing Poverty" consisted of 11 local initiatives across five thematic areas (education, employment, social protection, social housing and rural development), encompassing the territory of 21 local self-governments in three regions in Serbia: South and Eastern Serbia, Šumadija and Western Serbia and the region of Vojvodina.
The purpose of the Programme was support to the partnership of civil society organizations and local self-governments with the goal of formulating, implementing, monitoring and evaluating strategic and legal frameworks in areas of importance for social inclusion and poverty reduction and establishing cooperation with other relevant stakeholders from the public, private and civil sector, at the local and regional level.
The Programme also provided a contribution to the improvement of the following:
Mechanisms of communication between the public, private and civil sector at the local level;
Local legal framework enabling effective use of local budgets for improving the status of vulnerable groups;
Efficient prioritization of measures, programmes and activities in the programme thematic groups;
Strengthening the capacity of local stakeholders to increase successful absorption of funds from European Union funds, particularly the Instrument for Pre-Accession Assistance (IPA) and the European Social Fund.
The closing of the Programme "Local Initiatives for Increasing Social Inclusion and Reducing Poverty" was officially marked on 26 and 27 September 2016 in Kragujevac. Those present were addressed by Ivan Sekulović, Manager of the Social Inclusion and Poverty Reduction Unit and Đorđe Staničić, Secretary General of the Standing Conference of Towns and Municipalities, noting the importance of the project and expressing gratitude to all participants who worked to strengthen it during the past year.
We hereby note some of the main results of the programme:
6 local self-governments have increased budget allocations for measures and policies of social inclusion and poverty reduction,
8 local strategic and action documents have been adopted,
12 lists of priority measures and activities have been harmonized,
15 new institutional arrangements have been formed,
17 project proposals were developed in accordance with European Union methodology,
39 municipalities and towns have participated in events for sharing experiences,
Over 170 participants have been encompassed by trainings for writing projects and project cycle management.
More information on the programme can be found in the brochure "Local Initiatives for Increasing Social Inclusion and Reducing Poverty".