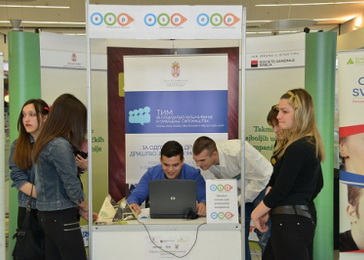 Supported by the Social Inclusion and Poverty Reduction Unit, the organization Junior Achievements in Serbia enabled secondary school students to this year certify their entrepreneurial knowledge and skills. This is a novelty, both in Europe, as well as our country, intended for those students participating in the Student Company programme. It is the Entrepreneurial Skills Pass, representing a new international method for gaining qualifications and obtaining certificates, and serves as confirmation that the students (aged 15 to 19 years) adopted the knowledge, skills and competence required for employment or self-employment.
Students with an Entrepreneurial Skills Pass (ESP) have numerous advantages over other young people in continuing their education, entering the world of business or starting their own business. Two online social platforms are used to facilitate networking between students holding ESP certificates and organizations offering further options: LinkedIn and Drop'pin. These platforms enable students to add an ESP certificate to their profiles and thus utilize it in the best possible way.
Prior to taking the test for obtaining an ESP, students fill in a self-assessment questionnaire, twice: at the beginning and at the end of participating in the Student Company programme.
The first step in gaining this certificate was made by 234 students from 40 secondary schools from across Serbia. They all filled in the first questionnaire as part of one of the four regional student company competitions held in March this year in Niš, Belgrade, Novi Sad and Kragujevac. In May these students will have the opportunity to fill in the second self-evaluation questionnaire, and in June they will be able to take the final exam for obtaining the Pass.
Over 600 teachers from 200 secondary schools were introduced to this method of certification of the attendants to the Student Company programme early this year, therefore the number of students is expected to increase several times during the next school year.