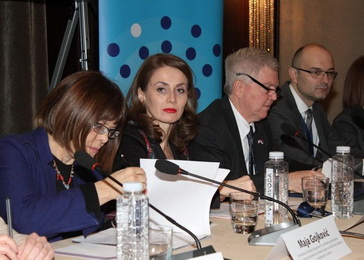 According to the number of complaints that were submitted to the Commissioner for the Protection of Equality during last year, disability and gender discrimination were the most common. This is an indication that we still live in a society full of obstacles that citizens with disabilities face, said Brankica Janković, Commissioner for the Protection of Equality at the conference "Strengthening the political involvement of persons with disabilities in Serbia."
She said that Serbia has a good legislative framework, but the full implementation of all laws and regulations is the most important, as well as working on further improvement of the status of persons with disabilities. She added that the institution of the Commissioner has carefully monitored the work of the Republic Electoral Commission regarding assurance of equal opportunities in the voting process and that it was necessary to provide accessibility of all polling stations as soon as possible.
Speaker of the National Assembly, Maja Gojković, said that there are around 800.000 citizens with disabilities in Serbia and that it is important that all the necessary conditions that would enable these people to take part in all aspects of life equally, including politics are provided.
Ana Brnabić, the Minister of Public Administration and Local Self-Government, referred to the problems faced by people with disabilities in the areas under the responsibility of her Ministry and stressed the importance of training programmes on detection of discrimination for local self-governments, implemented by the Ministry in cooperation with the Commissioner for the Protection of Equality and Standing Conference of Towns and Municipalities.
Vladimir Dimitrijević, the President of the Republic Electoral Commission, said that persons with disabilities "traditionally, rarely take part in the political life and election process" and that is why it is necessary to consider all issues and to inform members of this community about their rights and how to exercise them.
Source: ravnopravnost.gov.rs