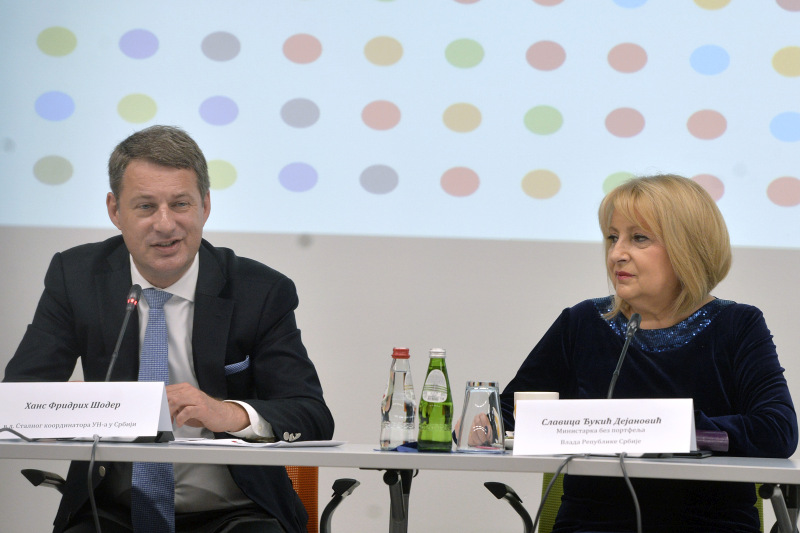 Minister without Portfolio in the Government of the Republic of Serbia charged with demographics and population policy Slavica Đukić Dejanović, speaking at the "Sustainable Development Goals – Status of Roma in Serbia" workshop held on 3 June, recalled that Roma are the largest minority ethnic group in Europe, yet still have limited access to personal and professional development.
She said that mortality among Roma children in Serbia is 13 per 1,000 live births, while the same number among the general population is three times lower.
Furthermore, vaccination coverage is lower than in the general population, since Roma live under conditions of extreme poverty, noted Đukić Dejanović, adding that the majority of Roma children are not part of the preschool programme, while most of them are still outside of primary education.
A third of Roma children enrolled in first grade start with a delay, and only 65 percent of those enrolled complete primary school, she said.
The Minister said it is encouraging that the number of enrolled children attending first grade is increasing, but data on higher education show that only two percent of Roma are part of the university community.
Đukić Dejanović noted that according to the 2011 population census as many as 60 percent of Roma in Serbia were unemployed, with Roma women in particular facing obstacles in exercising their rights.
The problem of child marriages, she noted, was recognized by the Strategy for the Social Inclusion of Roma in Serbia 2006-2020, National Gender Equality Strategy 2016-2020 and Strategy of Prevention and Protection from Discrimination. She also noted that all harmful practices of child, early, violent marriages need to be eliminated as per the UN sustainable development agenda by 2030.
Đukić Dejanović, also the President of the Intersectoral Working Group for the Implementation of the UN Sustainable Development Agenda by 2030, recalled that the 2030 Agenda envisages dignified work for all women and men, including youth and persons with disabilities, and same pay for work of equal value.
The Standing Coordinator of UN in Serbia Hans Friedrich Schoder noted that the UN family will continue its dedication to this topic in Serbia in order to improve the status of Roma and provide them with equal human rights.
Source: www.srbija.gov.rs