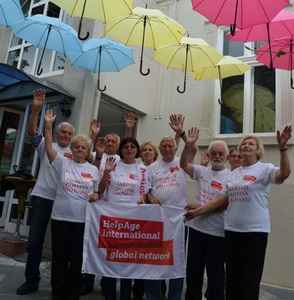 "Improving Human Rights Access for the Elderly in the Republic of Serbia" is the project successfully implemented by the Red Cross of Serbia in partnership with the HelpAge International from the United Kingdom, and financially supported by the Delegation of the European Union to the Republic of Serbia. The Project was implemented in several segments over the course of two years, from December 1, 2013, until November 29, 2015.
The Project was composed of several segments:
The development of self-help groups and their regular activities, as well as exchange of experiences
Education for the elderly on the subject of human rights
Human Rights research: legal framework for the human rights protection and recommendations for the improvement of the status of the elderly
Human Rights for the Elderly of the Republic of Serbia Guide
Conferences and meetings
"Age Demands Action" Campaign
Global activities
During the Project there were ten large meetings/conferences organized, they were focused on the human rights access for the elderly and were attended by 620 participants in total. One of the conferences was organized in collaboration with the Social Inclusion and Poverty Reduction Unit of the Government of the Republic of Serbia and the Commissioner for Protection of Equality.
The conclusion was that the elderly have to know that their rights are protected and that they can realize them in practice; the right to security and minimum income, the right to manage the personal property, the right to work, lifelong education and health. All mentioned rights are guaranteed by law and other conventions, but in practice, they are often neglected. We have a lot of work ahead of us if we want to improve the status of the elderly in Serbia, especially with regard to informing and motivating them to be active because that is the only way to accomplish full equality and access to human rights.
Source: europa.rs