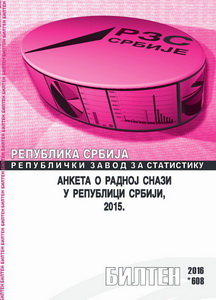 The Statistical Office of the Republic of Serbia announced the results of the Labour Force Survey for the year 2015.
Labour Force Survey collects data on the basic characteristics of the labour force, based on which, the total workforce in our country is assessed. The main objective of this survey was to obtain data on three basic, mutually exclusive contingents of the population: employed, unemployed and inactive persons. The data collected by the survey are used for monitoring, measuring and evaluating the economic and social developments in the Republic of Serbia.
Since 2015, the survey has been conducted as a continuous research in the Republic of Serbia. International recommendations and definitions were used when defining the basic quota of the labour force; therefore, the data collected by this survey represent the most important source of information in the field of labour statistics that is structurally and methodologically comparable to similar information from other countries.
Click here to download the "Labour Force Survey in the Republic of Serbia, 2015."