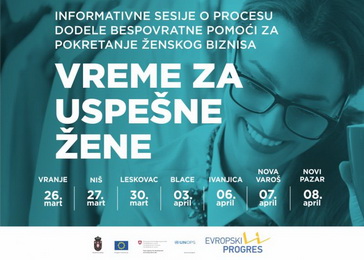 Informative sessions on the process of awarding grants for starting women's business entitled "Time for Successful Women", organized by the European PROGRES programme, were held between 26 March and 8 April 2015 in Vranje, Niš, Leskovac, Blace, Ivanjica, Nova Varoš and Novi Pazar.
The goal of the informative sessions was introducing future female entrepreneurs and representatives of relevant institutions to all phases and required steps – from application, through participation in the public call, to obtaining grants for starting women's business. The session was also the place for presentation for women entrepreneurs who have already started their own business using grants awarded through the three-year EU PROGRES programme.
The informative sessions are the first in a number of preparatory activities to be implemented by the European PROGRES programme between March and July 2015. After this period, the most successful entrepreneurial projects will be selected to receive grants and at least 40 enterprises owned by women will be started.
Source: www.europeanprogres.org