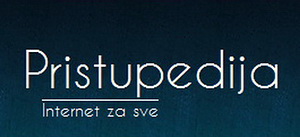 The Social Inclusion and Poverty Reduction Unit, in cooperation with the students of the Faculty of Organizational Sciences, supported the website "Pristupedija – Internet for All" (www.pristupedija.rs).
The website provides information on problems of persons with disabilities when using the internet and websites. Learn about how persons with disabilities use the internet, what assistive technologies they use, as well as global news in the field of these technologies. You can find examples of good practice in our state and abroad and visit some of the websites meeting web accessibility standards. Web accessibility involves enabling persons with disabilities to use the internet. It involves removing obstacles in access to web content. Developing websites that meet accessibility standards provides equal conditions for all users in access to information.
The "Pristupedija" website also provides translations of web accessibility standards and an introduction with the implementation guide using the example of our website.