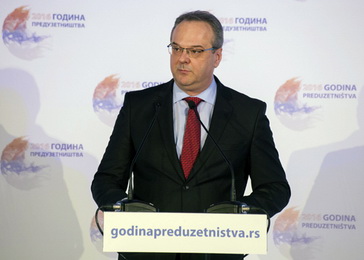 The Minister of Economy, Željko Sertić, stated that the Government of Serbia deeply believes the economy of the country must develop with a focus on entrepreneurs.
"This is why the Government of Serbia earmarked 16.07 billion dinars to support entrepreneurship, with 4.4 billion dedicated to grants," said Minister Sertić during the official presentation of the "Year of Entrepreneurship" at the Chamber of Commerce and Industry of Serbia.
He added that 11.38 billion dinars will be earmarked for loans and guarantees.
He explained that the "Year of Entrepreneurship" will be based on three main pillars – improving the business environment, direct support to entrepreneurs and development of entrepreneurial spirit.
Sertić noted that 99 percent of all companies in the EU are within the small and medium-sized enterprises sector, generating 85 percent of all newly opened workplaces.
"We start 33 aid programmes today, encompassing various forms of financial and non-financial activities," said Sertić, noting that all relevant information is presented in detail on the new web portal www.godinapreduzetnistva.rs.
Source: www.godinapreduzetnistva.rs