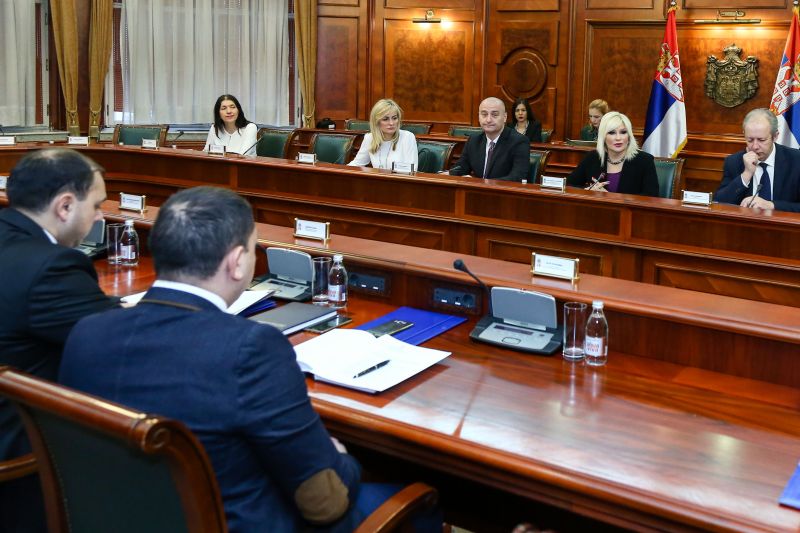 Deputy Prime Minister of the Republic of Serbia Zorana Mihajlović presided over the third session of the Coordination Body for Monitoring the Implementation of the Strategy for the Social Inclusion of Roma in Serbia (2016-2025), held on 24 January. During the session there was discussion about the implementation of the project of social inclusion of Roma in society.
The session was also the venue for talks about activities on drafting a new action plan, implementing durable housing solutions and improving the infrastructure of Roma settlements, as well as establishing regional standards for responsible budgeting of Roma inclusion policies.
Mihajlović noted that the Government of Serbia is dedicated to the inclusion of the Roma community into society, including improved conditions in the field of employment, social welfare, education, healthcare and housing.
Particularly good results, as she noted, were achieved in the areas of housing and employment, as recognized by the Government of Germany, planning to implement a project for the social inclusion of Roma in Serbia, worth EUR 3 million, with the Coordination Body of the Government of Serbia as the main partner.
Mihajlović informed the present members of the Coordination Body that a project is currently under way for improving the infrastructure and housing conditions in Roma settlements in 13 towns and municipalities, worth over EUR 9 million.
Furthermore, she added, the new IPA programme will provide EUR 20 million for social housing and employment of Roma.
The session was attended by representatives of the General Secretariat of the Government, the Ministry of Health, Ministry of Finance, Ministry of Justice, Ministry of Public Administration and Local Self-Government, Ministry of Labour, Employment, Veteran and social Affairs, Ministry of Youth and Sports, Ministry of Education and Technological Development, Ministry of European Integration and the Ministry of Construction, Transport and Infrastructure.
Furthermore, it was attended by representatives of the Social Inclusion and Poverty Reduction Unit, the Negotiation Team of the Government of Serbia for EU accession, and the German Agency for International Cooperation (GIZ), the EU Delegation, the UN Human Rights unit, Council for Regional Cooperation and the National Council of the Roma National Minority.
Source: www.srbija.gov.rs