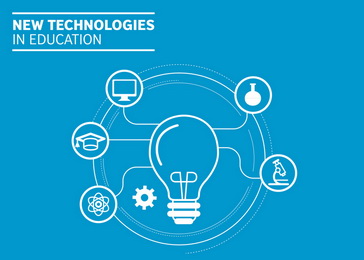 The fifth edition of the conference and fair "New Technologies in Education" will be held this year on 8 and 9 June at the Belexpocentre and the Holiday Inn Hotel in Belgrade.
This regional conference is the largest of its kind in this part of the Europe and it will include great number of national, regional and international speakers who will offer examples and suggestions of use of ICT in the classroom. The event will cover the following subjects:
Projects and creativity in the classroom,
Key skills and mental development,
Development of digital content for learning and use of ICT for other subjects,
Algorithmic thinking and coding,
Inclusive education and assistive technologies,
School management through the digitization process,
Vocational education and digital industries.
Rich fair programme will be presented by companies, publishers and educational institutions from Serbia and the region, as well as from the United Kingdom. One of the highlights of this year's fair will be STEAM village and regional competition in coding on micro:bit devices for children who's schools were part of 21st Century Schools programme.
Conference participation is free of charge, and lectures will be held in the Serbian and English language. The conference programme will be implemented in several halls.
VISIT THE EVENT
We hereby invite representatives of ICT companies, publishers, schools, faculties, national and local state institutions, agencies, civil society organizations and all those interested in contributing to the improvement of the quality of education to register their participation at "New Technologies in Education 2018". Through the exchange of experiences, presenting successful examples from the region and worldwide, we will jointly try to reach conclusions that will help us make a step forward towards a more inclusive and quality education for the 21stcentury. Applications can be found here are they will be open until 4 June 2018.
The event is co-organized by the British Council, the Ministry of Education, Science and Technological Development and the Ministry of Trade, Tourism and Telecommunications, in cooperation with  Social Inclusion and Poverty Reduction Unit of the Government of the Republic of Serbia and the Center for promotion of Science and with support of other partners.
More information on the conference can be found at British Council Serbia website.