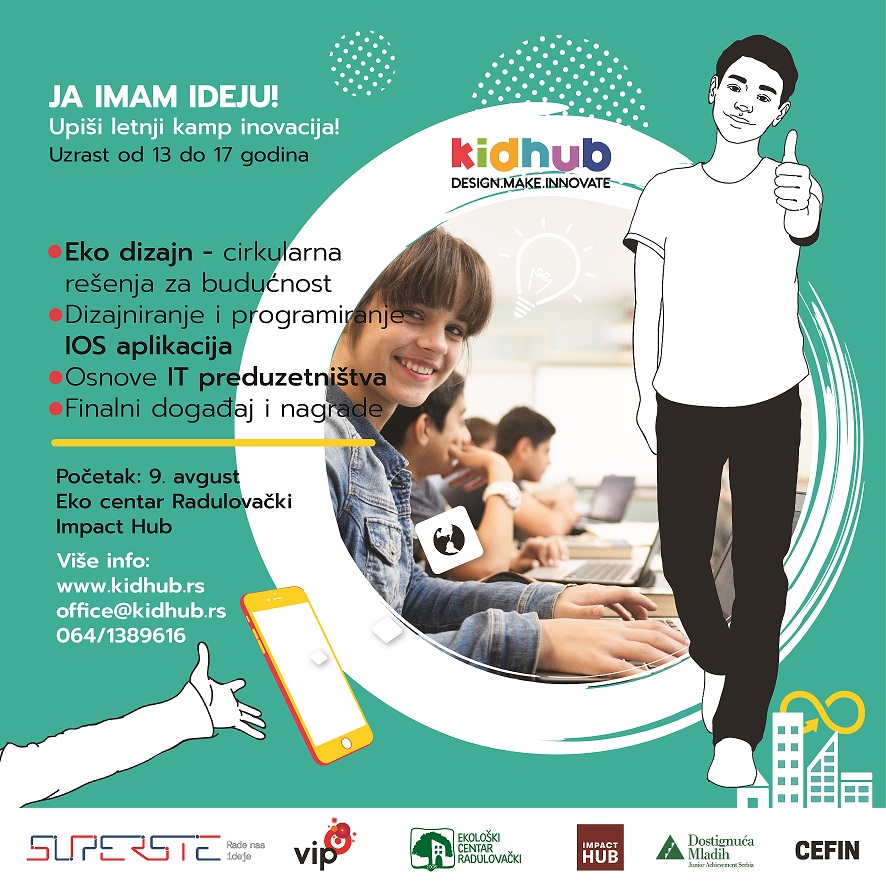 The unique summer camp of innovation "I Have an Idea", connecting ecology, design, technology and entrepreneurship, inspires children to create innovative eco solutions using mobile apps!
KIDHUB, the children's creative hub, is organizing the first summer camp of innovation and IT entrepreneurship "I Have an Idea" for children aged 13 to 17 years. The camp will be held from 9 to 31 August at two locations – at the "Radulovački" environmental centre and at Impact Hub Belgrade.
During three weeks of an intensive educational programme, primary and secondary school students will learn how to solve problems in the field of circular economy (a new approach that brings together economy and waste management), by designing and programming a mobile app.
The camp programme consists of three units: "Eco design – Circular solutions for the future", "Mobile app programming in the MIT App Inventor tool" and "Prototype design and business plan development".
The central topic is circular economy (12th Sustainable Development Goal of the United Nations), since it is a key topic for the survival of life on the planet Earth and it provides a lot of opportunity for creating creative future jobs important precisely for children and youth. The best solutions will be announced after the camp ends, at the closing event on 31 August, and one of them will have the opportunity to be implemented through the camp partners.
Applications are open until 4 August. Click here for the online application form.
The price of the three-week innovation camp "I Have an Idea" is RSD 24,000. KIDHUB has provided a total of six scholarships: Five scholarships have been secured under the partner programme "Girls in IT" with the support of the programme partner organization Junior Achievements Serbia, and KIDHUB has provided another free-of-charge participation in the programme.
The summer camp "I Have an Idea" is organized by KIDHUB – a children's hub dedicated to empowering the creative potential of children aged 7 to 18 and improving youth employability through innovative educational programmes integrating IT, STEAM (science, technology, engineering, arts, maths), maker education, design, social innovation and creative entrepreneurship. KidHub is part of the global educational network Designathon Works©, with 700 children aged 7 to 18 participating in the educational programmes of this organization to date.
More information at www.kidhub.rs