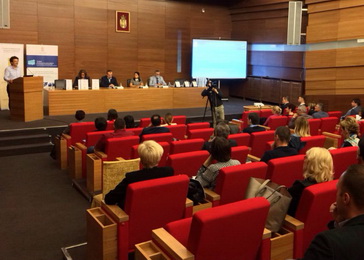 Today, the Ombudsman of the Republic of Serbia, in cooperation with the Social Inclusion and Poverty Reduction Unit of the Government of the Republic of Serbia and the Standing Conference of Towns and Municipalities presented awards to Svilajnac municipality, as well as to cities Novi Sad and Kruševac for the most significant contribution to the development of all forms of accessibility in 2017.
Svilajnac received the award for activities and initiative with regard to timely planning and removal of architectural barriers, Novi Sad for the institutional support to the improvement of accessibility, and Kruševac for strategic thinking within the field of accessibility development.
Ombudsman Zoran Pašalić pointed out that he often received questions about why those awards were given to local self-governments when they were obligated by law to provide accessibility within their jurisdiction, and he explained that while visiting towns and municipalities in Serbia he noted that persons with disabilities were invisible to their fellow citizens because they were in various ways denied access to the public.
"We also visited places where the rights of persons with disabilities are protected and in such environments persons with disabilities become full members of society and they participate in the public life", highlighted the Ombudsman. He added that, with the reconstruction of public buildings, educational programmes and development plans, cities and municipalities which received these awards showed in practice how persons with disabilities become full members of society.
The Ombudsman of the Republic of Serbia received 19 applications through the public call and he believes that next year this number will increase significantly.
"We hope that in the coming years, by working together with representatives from the Government, local self-governments, as well as citizens associations we will succeed in building a society where everyone will be in the position to exercise their rights, as it is prescribed by law", said Pašalić.
Awards were also given to municipalities Vračar and Palilula in Belgrade, Čajetina, Bela Palanka, Boljevac, Brus, Majdampek, Paraćin, Šid, Surdulica, Velika Plana, Vrnjačka Banja, and to cities Kragujevac, Kikinda, Niš and Zaječar.
Taken from: www.ombudsman.rs