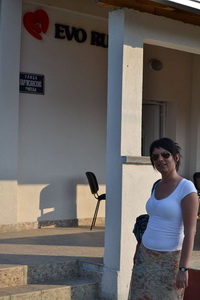 Transcript of the presentation by Ana Knežević at the 31st Belgrade Ignite "My Society Loves Differences" (27 April 2015, Mixer House, Belgrade)
Behind every child believing in itself stands a parent who first believed in it. Behind every adult believing in themselves is also a parent who believed in them. Behind every successful person with a disability, in Serbia and in general, there is definitely always a parent. (…)
My child has DiGeorge syndrome, meaning it has a problem on the 22nd chromosomal pair, that perhaps it will be unable to speak and walk, that it has a sick heart, etc. All kinds of predictions kept hitting us… What do we do? First, we operate on the heart, and see what happens. It is a tunnel you literally do not know how you will pass. We will exercise a lot, care about whether pelvic control is established, whether the head is stable… and daily efforts lead to the first step! It happens at once, when your child is three and a half years old, and you simply do not believe it just happened, because you didn't believe you'd get there. However, something guided you, because somewhere in your heart you knew it was possible. (…) Today, my son is walking, riding a bicycle, playing football, making an effort and fighting in accordance with the love and faith in himself I gave him.
What should the mother of such a child know? She should know she gave birth to a prince, that only she is strong and important and that she can help her child. Everything happens for a good reason and will be well, she just has to be very persistent. When after seven or ten years you manage to raise your child and fight through it, you want to change the world and say: "I will not go to Novi Sad to treat my child, I will not go to Sweden because the conditions there are better. I want to develop a system of support for my child here – in my Serbia, in my Belgrade!" (…)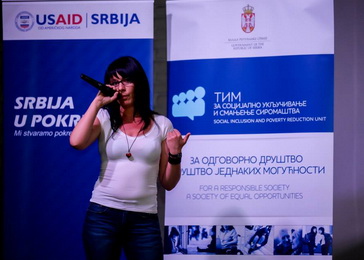 What should everyone else know? They should be happy they can help someone and hope they will never be in a position where they need help. They should know it is not easy at all for us, regardless of the fact we carry our burden like a million dollars. That our children are happy with us and that we are happy for having them.
Two years ago we started the campaign for the inclusive centre "Meeting Place" in Zemun Polje. It was very hard and it didn't look probable that it would become a reality. But we managed to turn a horrible house, the eyesore of the neighbourhood, into a beautiful centre for our children. Why an inclusive centre, why in Zemun Polje and why is it called "Meeting Place"? It is an inclusive centre because I have another child, too, one that needs to grow and mature and who also needs support and who should make friends with all other children. In Zemun Polje because I am Ana from Zemun Polje and my child is growing up there. Why "Meeting Place"? Because first we need to somehow meet ourselves, to be the support and feel the power in ourselves, and only then can we meet everyone else. We are there to provide welcome, because our inclusive centre is open for all. (…)