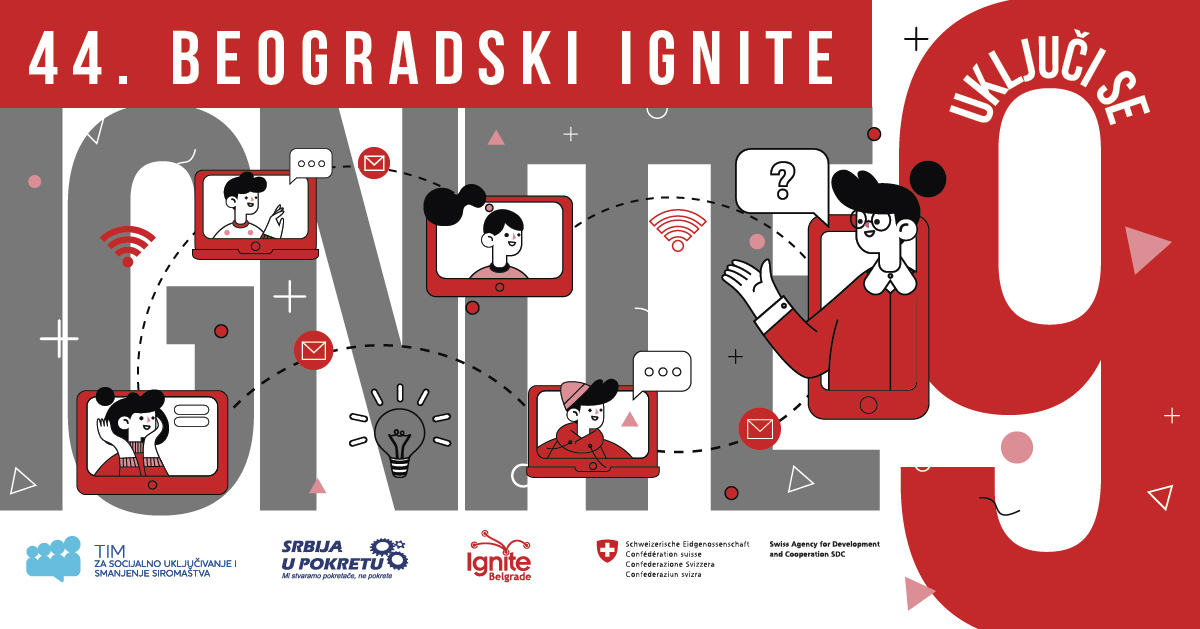 The Belgrade Ignite "GET INVOLVED online 9", organised by the Social Inclusion and Poverty Reduction Unit of the Government of the Republic of Serbia and "Serbia in Motion" Citizens' Association, was held on 9 November 2021. Due to the epidemiological situation the ninth Belgrade Ignite on social inclusion was held on an online platform, with its organisation supported by the Swiss Confederacy.
The aim of this event was to illuminate various aspects of social inclusion through five-minute presentations by the participants, and thus highlight the status of vulnerable groups, and through individual examples to motivate and stimulate others to become involved or initiate their own activities. In this way, Ignite has traditionally been endeavouring to inspire individuals to provide a contribution to creating an equal society for all citizens. The moderators of this year's Ignite were Andreja Koršič and Božidar Stojkov.
Ignite was opened by Dragana Jovanović Arijas, Manager of the Social Inclusion and Poverty Reduction Unit of the Government of the Republic of Serbia, noting that Ignite is a format that enables us to listed to each other, exchange common and individual experiences, and learn from one another. "This is a way to hear stories about various challenges, but also creative and innovative ways to overcome them, and along this path to learn more about ourselves and others, and to help our local communities", said Jovanović Arijas.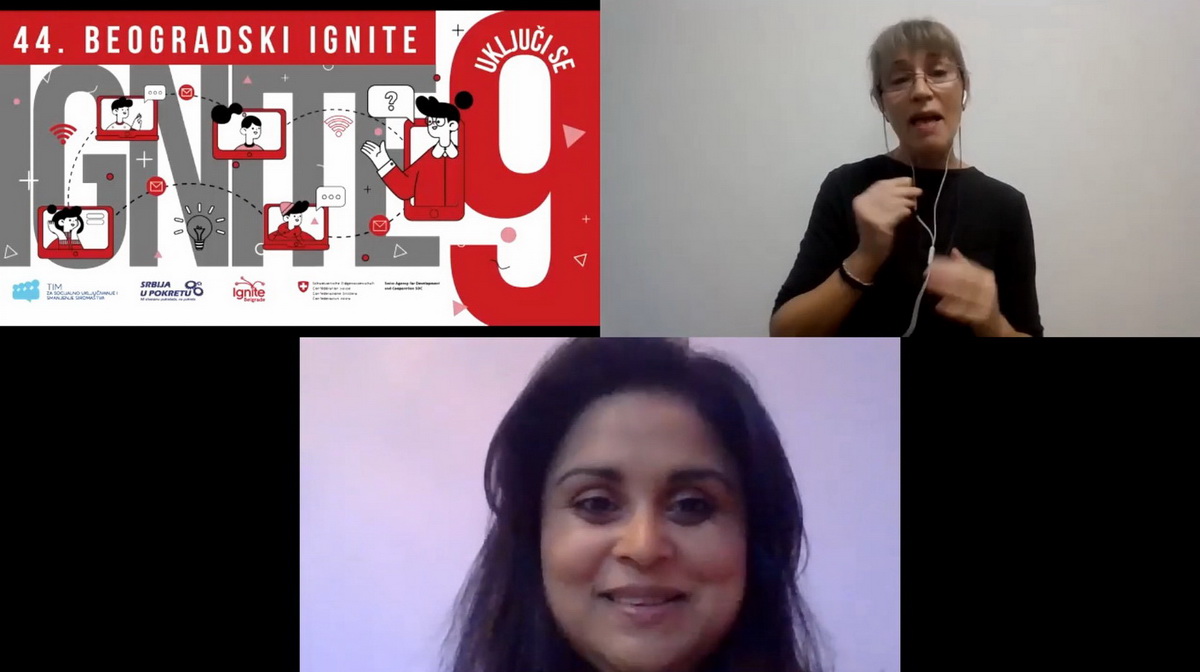 Nikola Đorđević, President of the "Serbia in Motion" Citizens' Association, said he is particularly proud of this event, as during past years Ignite enabled more than a hundred people to present their stories and initiatives. "These people always pushed boundaries and were always ready to contribute to making our living environment better", noted Đorđević.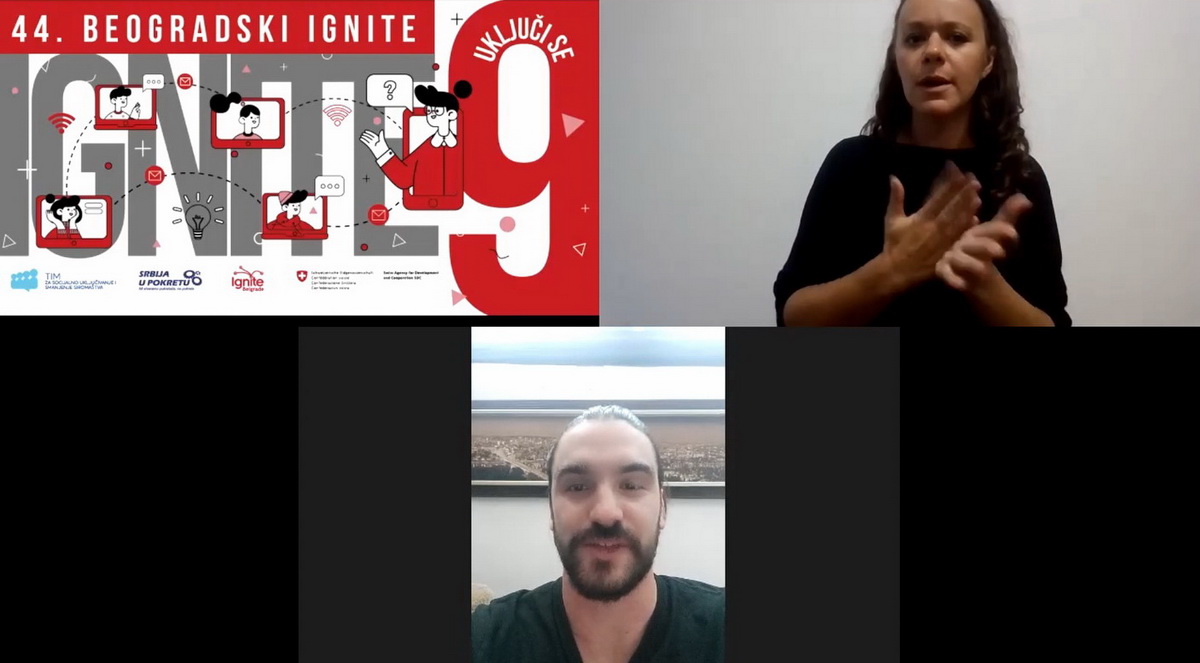 The Ignite presenters and participants were also addressed by psychologist and journalist Dragan Ilić, reflecting on the issue of mental health during the current pandemic. "We live in a society that needs a culture of dialogue and inclusion, particularly of marginal groups, that includes people with mental health issues", said Ilić and noted that under these circumstances it is particularly important to pay attention to others, to hear one another out, and to include people with mental health issues in all areas of life. "We need to establish a dialogue and hear and understand each other at a societal level", concluded Ilić.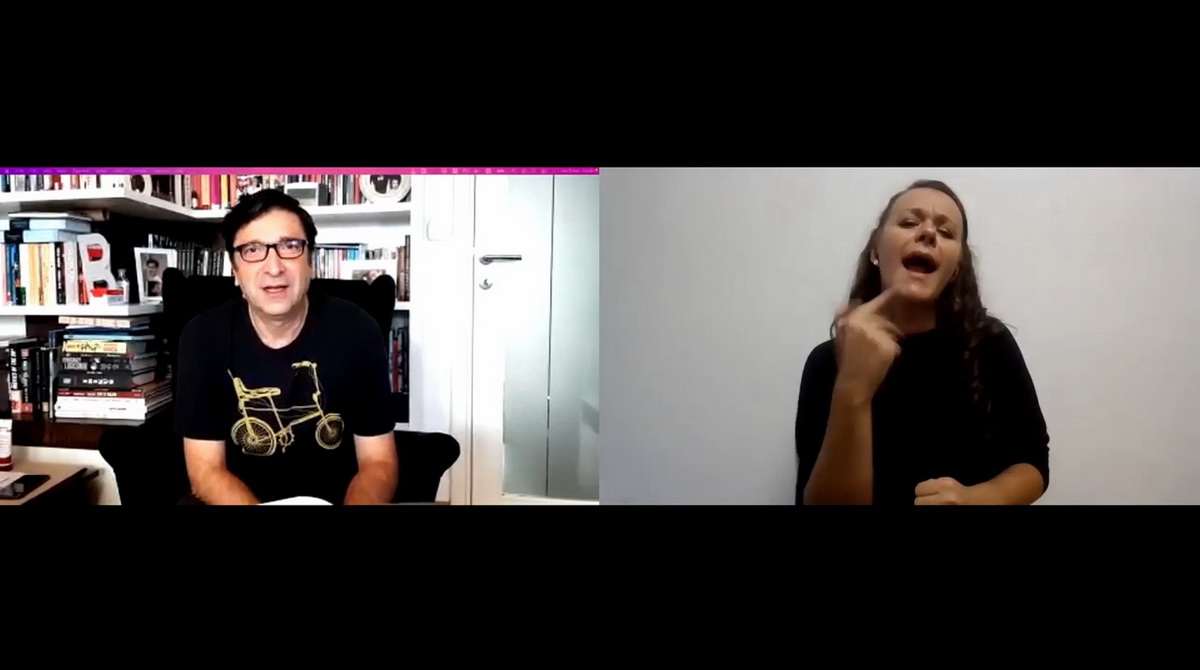 Presenter Dragana Tomić Pilipović, founder and Executive Director of the Centre for Socially Responsible Entrepreneurship – CDOP with over 20 years of experience in the field of organisational development, strategic human resource management, and design of educational and mentoring programmes, shared her story about the decision to move from a city to a village and start a completely different life. With her team, she has designed the first educational board game on social entrepreneurship, and works in particular on empowering villages through social economy. Eleven years ago, she started the first rural coworking space in Serbia – Rural HUB, located in the village of Vrmdža near Sokobanja. Through her idea, Vrmdža has new residents that are starting their lives in this village in increasing numbers.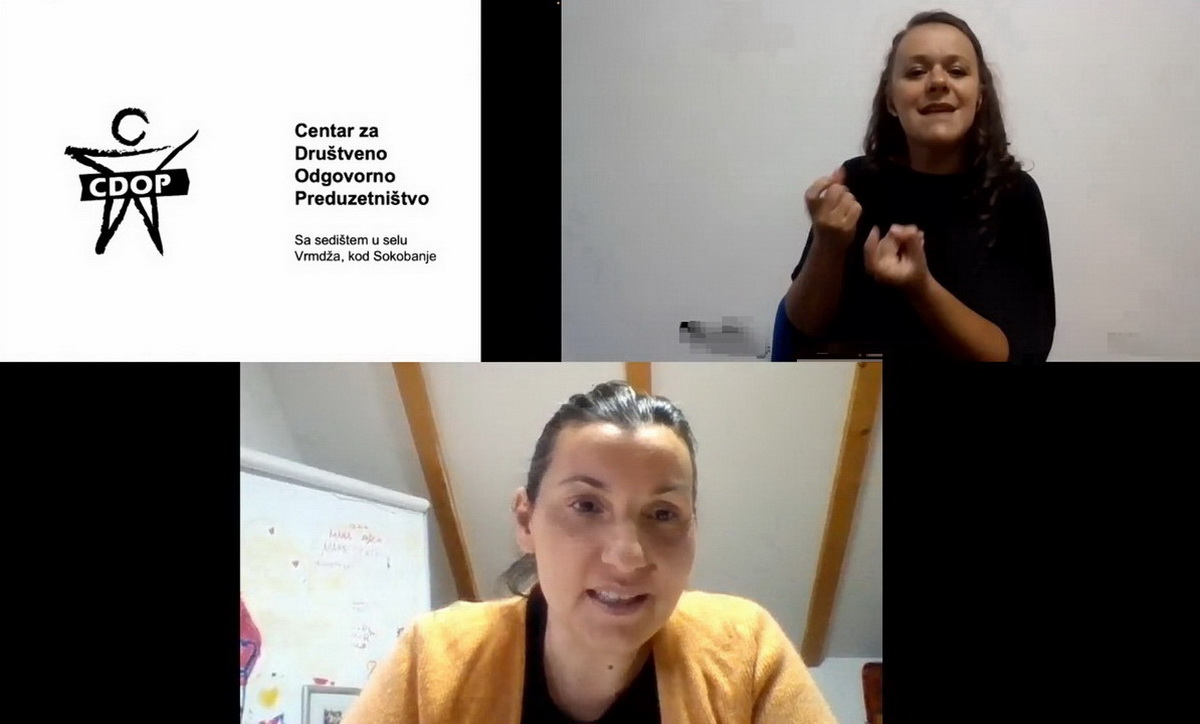 Lazar Bulatović, trainer of presentation skills and founder of the GlobalSpeak platform, also presented himself at this year's Ignite. Lazar believes that public speaking is not a talent, but a skill that everyone can learn and acquire. Although he faced many obstacles as a completely blind person, he does not allow anything to stop him from enjoying his work. As he said, his motivation is customer satisfaction and the dynamism that entrepreneurship brings every day. Lazar believes that fulfilled people are only those who really do what they love.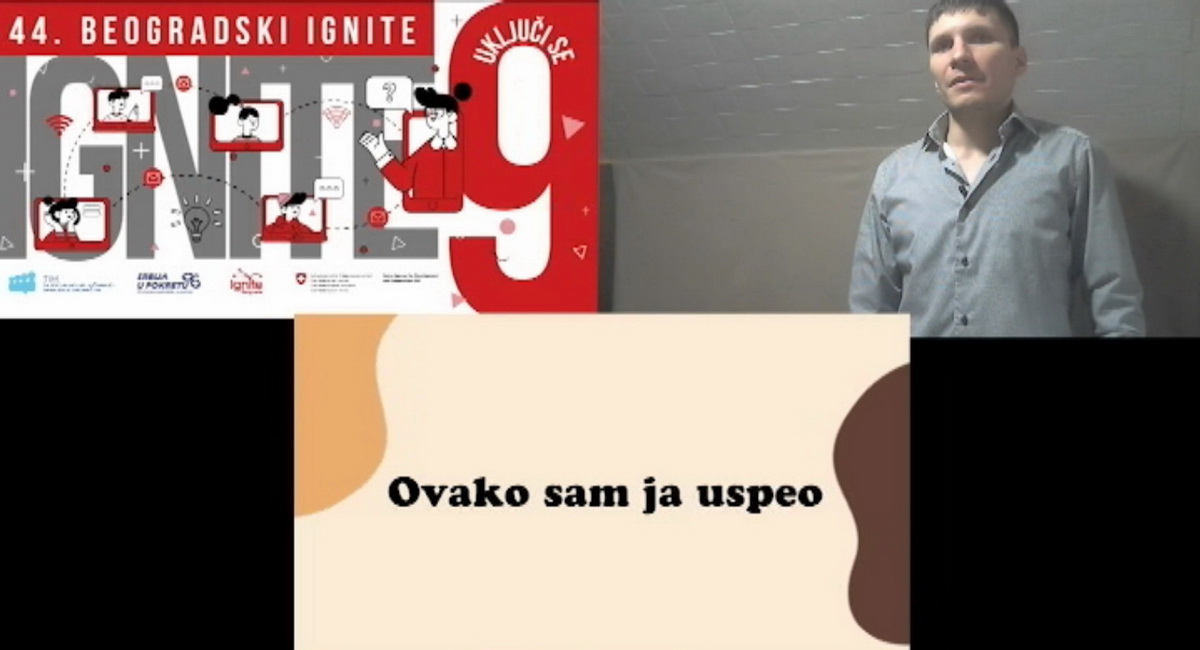 Saška Sokolov is a Paralympic athlete, who became the European champion in the junior category after only three months of training. She took part in the Paralympic Games in Rio de Janeiro, at the European Championship in Berlin in the javelin discipline, at the World Championship in Dubai, while in 2021 she became European champion in 100 and 200 m dash and vice-champion in javelin. She started her sports career in her home town of Pirot, as a football and handball player. In her five-minute presentation Saška noted that power does not lie in similarities, but in differences, and noted that the low expectations her environment had from her at the start of her sports career were not an obstacle for her success as a sports woman and Paralympian, with the highest awards and prizes in the world of sports.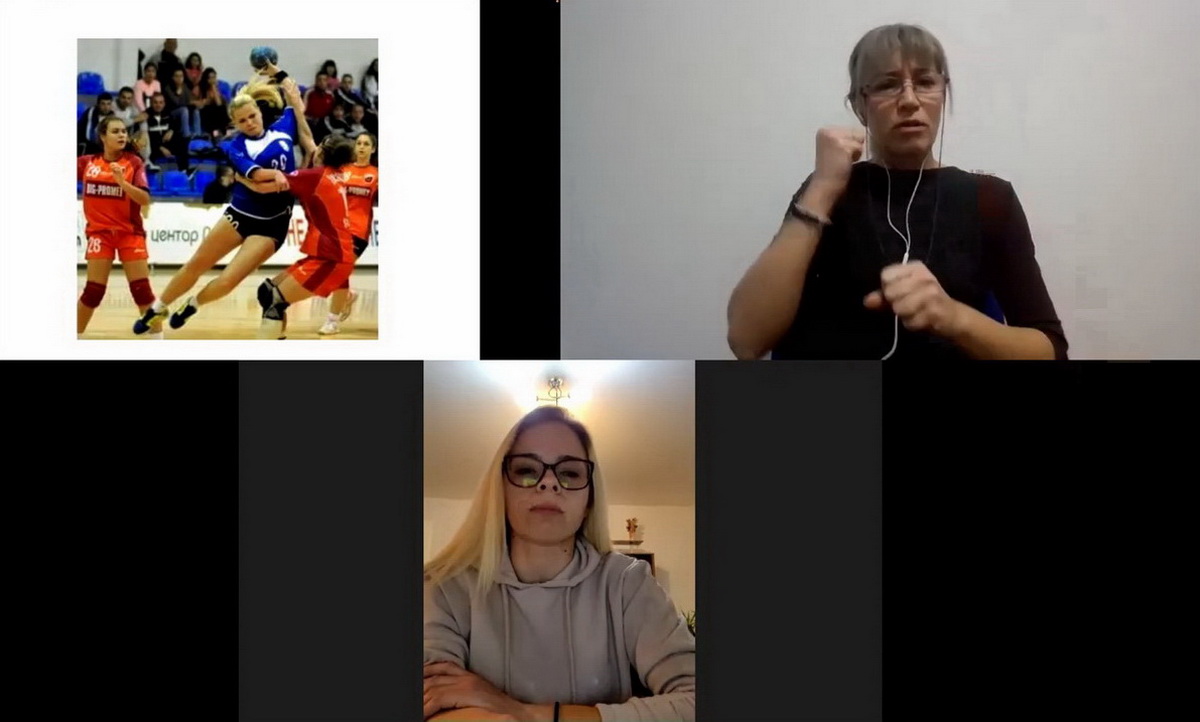 Vesna Bondžić is the founder and president of the association "Milica" Women's Centre with over 11 years of experience in the field of advocacy for the rights and services for persons suffering from carcinoma. Her presentation is part of a mission to provide suffering women with the necessary support during and after cancer treatment, including support for their families. Vesna is a breast self-check educator for blind and vision impaired persons and organiser of many events related to the promotion of performing regular preventive checks, among which "Kick Cancer" became a regional campaign held every October in over 30 towns in Serbia, Slovenia and Croatia.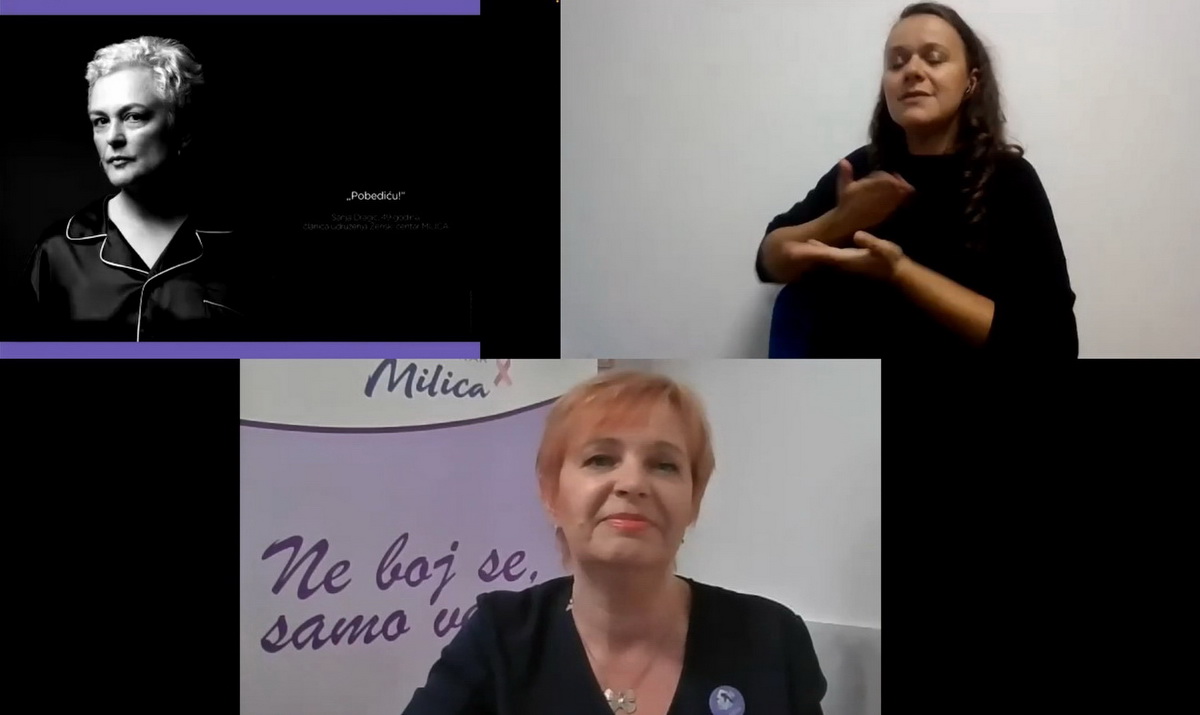 Alma Kajtazi is the President of the Association "Romani Asvin" (Roma Tear) working on dissemination of information, motivation and inclusion of Roma youth in the higher education system. She has ten years of activist experience in the Association of Youth Volunteers comprised of 60 young United Nations volunteers. Alma noted that progress towards education cannot be achieved without information, and this was the motive for the campaign "Heroes of Our Community" aiming to motivate young Roma to continue their education. She also noted the importance of numerous other initiatives she is implementing with her associates, aiming to continue education through exchanges and scholarships, as well as employment, with particular emphasis on young Roma women.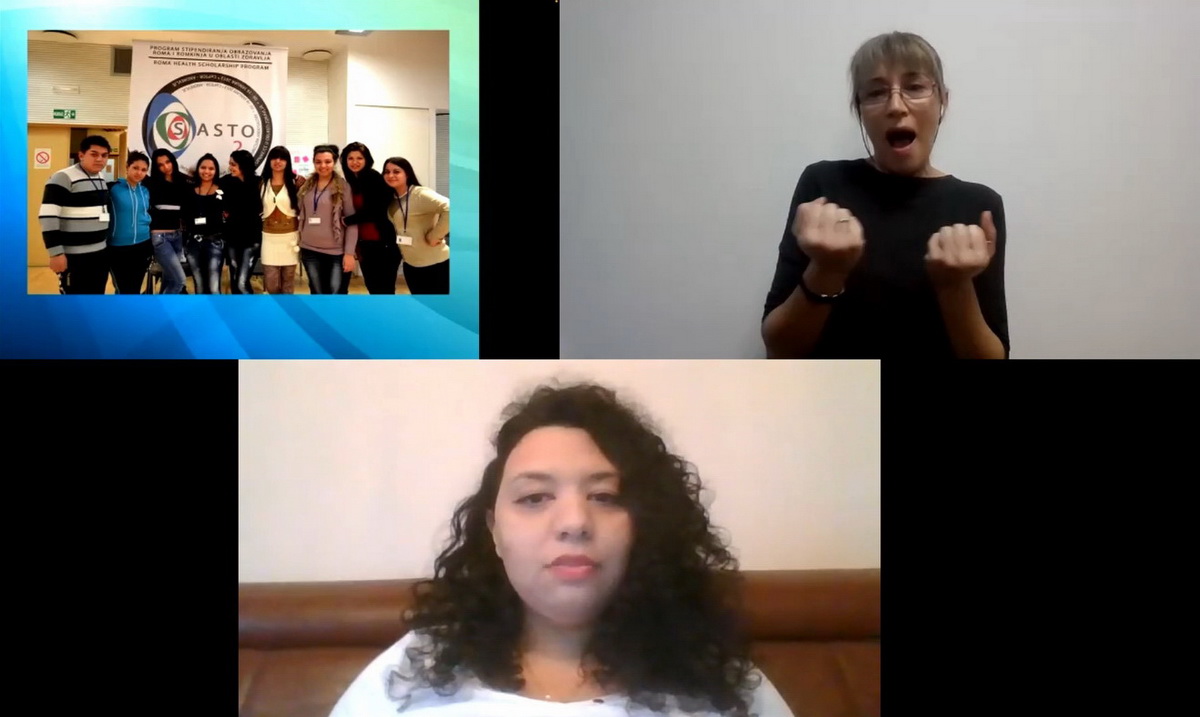 Žarko Sebić runs a music workshop in the Day-care of the School for Primary and Secondary Education "Milan Petrović" in Novi Sad, with the main goal of inclusion of persons with disabilities in the cultural life of the community. He explained that as part of the musical workshops the "Dobri ljudi" orchestra uses special musical instruments based on sensory technology enabling motion-impaired persons to actively participate in the creation and performance of music. He noted that new technologies are democratising music, making it available to all and enabling persons with disabilities to exercise fundamental human rights, including the achievement of intellectual and creative potential and right to free consumption of art. "Availability, accessibility and mobility can make the life of persons with disabilities better and nicer, as well as for all of us who have the opportunity to work with them", said Žarko.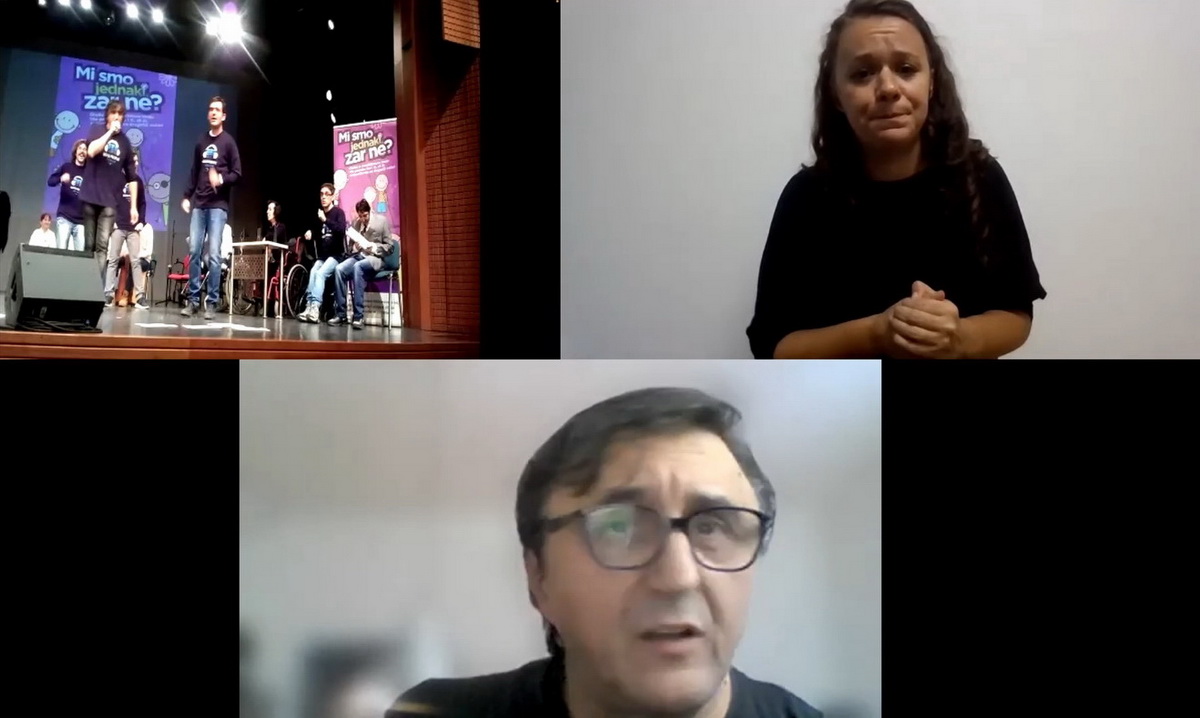 Sara Đurđević is a special educator by vocation, traveller by location. She lives and works on projects promoting human rights, intercultural learning and volunteering in Sardinia, while in her free time she likes to try new things, dance, camp and work on activism through her personal project on social networks, "1906 steps". She writes for herself and others, wishes to start life in a village and travel the world. She spoke of the importance of volunteering experience acquired in a country she did not visit before, learning about new cultures, about there not being universal rules for life.
Ivana Kovačević is a teacher of Serbian language and literature. She is the participant of national projects, author and implementer of workshops and trainings for teachers, author of digital teaching tools and winner of numerous awards for teachers. Through her work, Ivana endeavours to contribute to the trend of making education available to all students. Ivana spoke about digital educational tools and the way she organises her literary section within distance learning. She noted in particular the educational platforms "Final Examination" and "Entrance Examination" for primary and secondary school students, that can contribute to independence in learning through interactivity and their simple structure, in particular for students that require additional support in learning.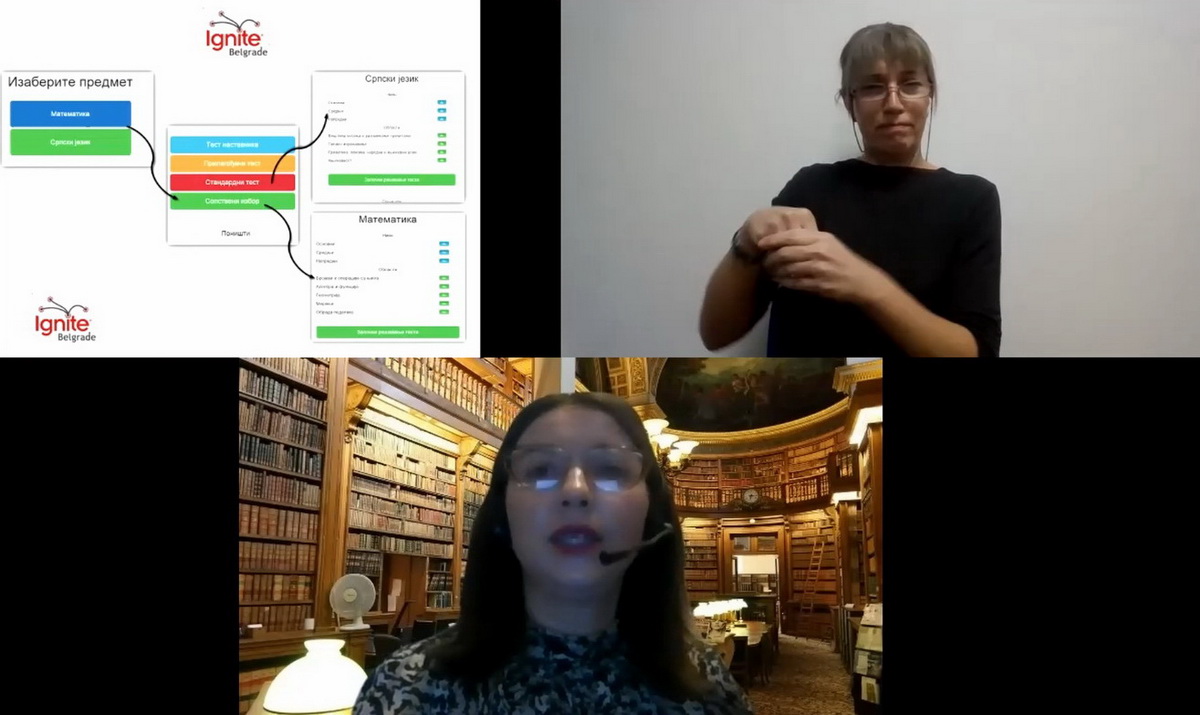 Vera Jovanović is a modern theatre actress, sign language interpreter, sign language interpreter in performing arts, and host for the Theatre school in the Serbian sign language "Iza znaka" in the Cultural and Arts Association of the Deaf of Belgrade "Radivoj Popović". This organisation has been nurturing the culture and art of the deaf for 70 years through various sections. Vera is promoting the idea that sign languages, with their specificities, are important elements of the overall cultural heritage of humanity. Stojan Simić is a member of the Cultural-Arts Association of the Deaf of Belgrade "Radivoj Popović" where he was engaged in folklore, modern dance and pantomime since the earliest age. A tailor, professional modern dancer, educator, and primarily active promoter of the culture of the deaf and sign language, he took part in numerous dance shows with the groups: Hajde da…, Erg status, Bitef Dance Company, etc., in all shows of the project "Iza znaka", in dance and experimental films. He is the protagonist of the short documentary film "Jedini". He is the leader of dance workshops and choreographer for the dance shows for KUDGB "Radivoj Popović". The focus of his interest is on the empowerment of deaf and hearing-impaired persons to become more active in the creation of art through dance and theatre. His presentation, in Serbian spoken and sign language, has provided an extensive overview of the shows of the Cultural-Arts Society of the Deaf of Belgrade "Radivoj Popović", connecting their love of theatre and sign language, the most important determinant of deaf culture. They explained that there are many sign languages, and that it is not universal. They explained that for deaf persons sign language is the mother tongue, and that sign language poetry is well developed worldwide.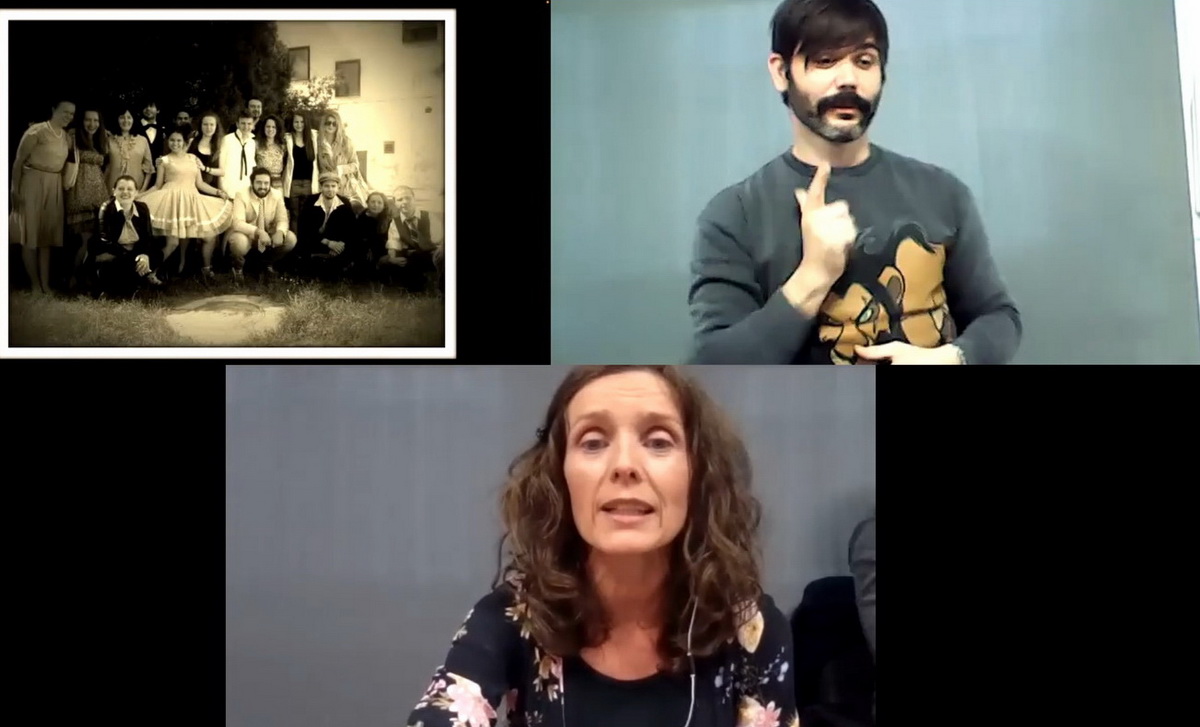 Milena Pančić has been a member of the humanitarian organisation "Dečje srce" since January 2019, and employed at the work centre and café "Zvuci srca". The Work Centre and Café "Zvuci srca" consists of a café, workshop and retail shop. Milena spends most of her time in the workshop, operating the thermal press for textile and thermal press for mugs. She is excellent at her work, can perform her work duties independently, and as she says herself, she is a true professional. Milena loves to cook, spend time with people and meet new people. Her dream is to one day teach people to operate the presses.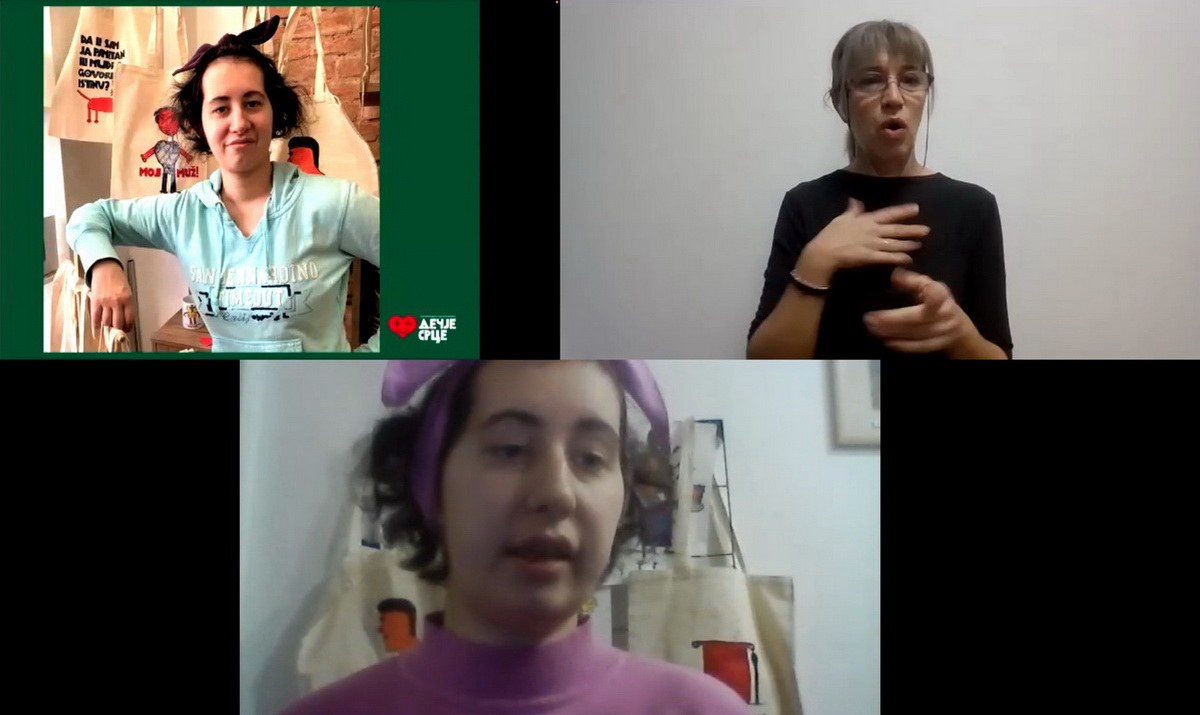 Click here to watch the recording of the 44th Belgrade Ignite "GET INVOLVED online 9" event.
What is IGNITE?
Ignite is an event that spreads good ideas. The presenters are given a microphone for exactly five minutes, and tasked with "igniting" the audience for an idea.
Ignite is an event filled with rapid, brief and dynamic presentations:
The presentations last for five minutes,
Each presentation consists of 20 slides,
The slides change automatically every 15 seconds,
The presenter has no control over the slides.
Ignite was first held in Seattle in 2006. Today, the presentation of good ideas and practices from various areas of life is practised in over 100 cities worldwide. The first BELGRADE IGNITE was held in October 2009. The Social Inclusion and Poverty Reduction Unit of the Government of the Republic of Serbia, in cooperation with the CA "Serbia in Motion", has organised the Belgrade Ignite with the topic of social inclusion for the ninth year in a row.
Visit our YouTube channel and watch the videos of presentations from previous Ignite events dedicated to social inclusion.
More information can be found on the Facebook page www.facebook.com/BelgradeIgnite.