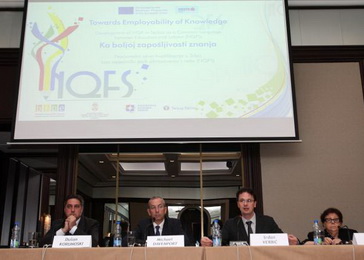 The Minister of Education, Science and Technological Development dr Srđan Verbić, speaking at the conference "National Qualifications Framework in Serbia – Establishing Communication between Education and the Labour Market" said that the National Qualification Framework (NQF) is probably the key precondition for foreign investment in Serbia. He noted that the Ministry of Education is the bearer of the project of drafting the National Qualification Framework, but also stated that "this is not work that should be done by the ministry alone, but other entities should be involved, too".
Minister Verbić said that the Ministry has been dedicated to the process of drafting the NQF for several years, and said around 40 percent of the work is complete.
Reminding that the law regulating adult education has been adopted, the Minister assessed that an increase is needed in the number of organizations participating in obtaining qualifications and adherents to the idea that the civil sector should be the bearer of informal learning since, as he says, it is more flexible and dynamic that the formal one that cannot keep up in the field of adult education.
The chairman of the National Council for Higher Education, Dejan Popović, said that the National Qualifications Framework is the missing link in meeting the Bologna process, and stated the University should show its readiness to openly and flexibly access these processes.
Resolving the issue of high unemployment in Serbia requires the cooperation of the sectors of education and labour market, said the head of the European Union Delegation to Serbia, Michael Davenport, adding that the EU has thus far invested around 100 million euros in education and employment in Serbia through procurements, technical assistance and infrastructure. He stated that the National Qualifications Framework represents a way to determine and list the knowledge and skills required for a given trade, as well as to provide the basis for linking relations between trades from various sectors.
Source: www.mpn.gov.rs