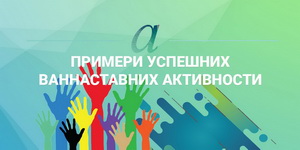 The database of successful extracurricular activities was produced based on the selected works submitted by schools and student dormitories from across Serbia to the Call published by the Institute for the Improvement of Education, open from October 2017 to the end of January 2018. The call was not competitive, but the incentive for participants was the opportunity of having their work featured in the database available on the IIE website, thereby further affirming the work of their institutions.
The call is part of a three-year project Strengthening the Educational Role of Schools, implemented by the Institute based on the Education Development Strategy by 2020 in the Republic of Serbia and the relevant Action Plan. The call aimed to affirm schools and student dormitories successfully implementing various extracurricular activities for educational purposes, and to establish a database of good practice examples.
The call conditions were such that schools and student dormitories could apply with various aspects of school life, and/or life in student dormitories, that are not part of regular classes, and/or educational work, such as: social, arts, technical, humanitarian, cultural, sports and other activities (including student cooperatives, expanded school activities…); field trips, excursions, classes in nature, summer schools, research camps; activities aimed at support for vulnerable groups of students (minority groups, students requiring additional educational support, migrants, children living in dormitories, children changing schools…); activities within the class community, etc.
Click here to access the Database of Examples of Successful Extracurricular Activities.
Source: zuov.gov.rs