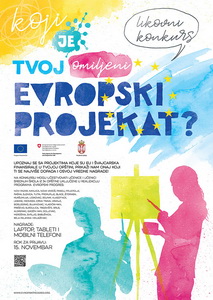 European PROGRES Development Programme has launched an art competition for secondary school students from 34 municipalities in South East and South West Serbia, with the theme "My Favourite European Project." The competition has traditionally been organised for eleven consecutive years with the support of the European Union (EU) and the Swiss Government. The primary objective of the competition is encouraging creativity among the youth living in the South of the country.
This year's theme aims to better acquaint the youth from the Programme municipalities with the projects the European Union (EU) and the Swiss Government have been supporting for a decade, thus contributing to the improvement of the quality of life.
The best artworks which will be selected by a panel of experts will be printed on the 2018 European PROGRES Calendar, while the young authors of the selected works will be awarded laptops, tablet computers, and mobile phones. The school declared to be the best, based on its engagement and commitment to the organisation of school-level competition and project visits, will win a laptop and a projector.
The Competition is open until 15 November 2017, and the award ceremony and Calendar promotion will be organised in December.
More information can be found at www.europeanprogres.org