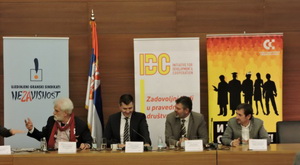 The final conference of the "New Decent Job Opportunities for Youth in Serbia" project was held on 30 January at the Deputy's Club in Belgrade. The participants had the opportunity to learn about the Danish-Serbian cooperation in the field of youth employment and employability, while social partners presented their work on the project and specific measures undertaken to improve the living conditions of youth in Serbia.
The conference was attended by the Minister of Labour, Employment, Veteran and Social Affairs Zoran Đorđević, stating that according to data from December 2018, the share of youth in the overall unemployment rate is 19.9%, while in 2017 that number was 22.4%. He also noted that the opening of new jobs, retraining and additional qualification trainings are important to provide opportunities for youth in the labour market.
The event participants noted that some of the good experiences applied in Demark could serve as a good example, and that it is important to provide for a dignified, not precarious or unstable work, i.e. quality and sustainable employment, meaning that youth should not be working illegally, but should be paid a decent wage.
Representative of the Directorate-General for Employment, Social Affairs and Inclusion at the European Commission Ida-Maria Falesen and Federica Rosato from Solidar Foundation talked about the policies of the European Union aimed at improving the quality of life and increasing employment of young people with specific examples from Denmark, Italy and Spain.
The project "New Decent Job Opportunities for Youth in Serbia" is aimed at promoting social dialogue and encouraging cooperation among social partners, all with the aim of joint action in order to find solutions for reducing the unemployment rate of youth in Serbia. The goal of the project, which lasted for two years, was to strengthen cooperation and social dialogue in Serbia through the adoption and implementation of the Agreement of the social partners on the creation of opportunities for decent work of young people, signed at the end of last year.
The project is funded by the CISU fund within the program of Danish Ministry of Foreign Affairs. The leading role on the project is that of FIC from Denmark, a non-governmental organization dedicated to social development and strengthening inclusion. Project partners in Serbia are the Serbian Association of Employers, the Confederation of Autonomous Trade Unions of Serbia and United Trade Unions "Independence". The implementation of the project was coordinated by the Association of Citizens Initiative for Development and Cooperation.
Source: idcserbia.org