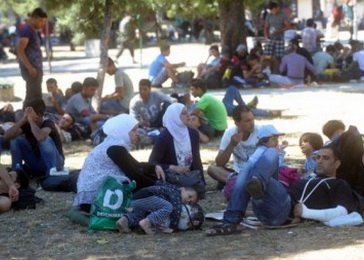 The implementation of the programme of regional support for managing migrations in the Western Balkans and Turkey within the IPA II programme will begin in November 2015 and last for three years, with a budget of eight million euros. Due to the programme, the countries will be better equipped to respond to the influx of migrants, inter alia by better identification of migrants, improved information exchange setting the basis for finding sustainable solutions for return. The project will be implemented by the Commission, jointly with competent EU agencies, including Frontex, as well as the International Organization for Migrants (IOM) and the UN Agency for Refugees (UNHCR).
The European Commission earmarked 1.5 million euros in humanitarian aid on 26 August 2015 to help refugees and migrants in Serbia and the Former Yugoslav Republic of Macedonia. This serves as support for partner humanitarian organizations to provide elementary human needs, such as potable water, hygiene items, healthcare, and shelter. Aid is also directed at providing protection for refugees and migrants, improving reception centres, coordination and submitting reports on migration issues in the region.
The European Commission recently earmarked 90,000 euros of humanitarian aid for the Former Yugoslav Republic of Macedonia (31 July 2015) and 150,000 euros for Serbia (20 August 2015) as a response to the extraordinary situation. The funds were channelled through the Emergency Aid Fund of the International Federation of Red Cross and Red Crescent Societies, and paid directly to the Red Cross associations in these countries. With the new funds, the total EU humanitarian aid for vulnerable refugees and migrants in Serbia and FRY Macedonia is 1.74 million euros.
More information can be found at europa.rs