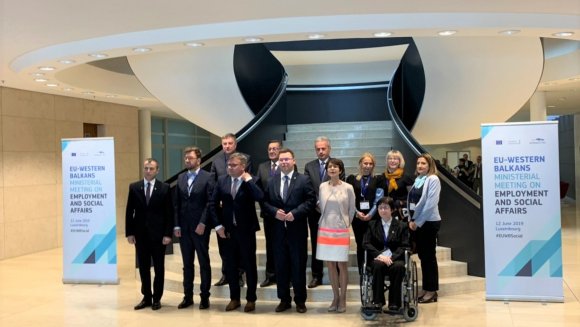 State Secretary of the Ministry of Labour, Employment, Veteran and Social Affairs Bojana Stanić led the delegation at the First Ministerial Meeting at the level of the European Union and Western Balkans countries in the field of employment and social policy held in Luxembourg.
Ministers from the current presidency trio of the Council (Romania, Finland and Croatia), in cooperation with the European Commission, have organized a meeting with their colleagues from Western Balkans countries with the aim of reviewing the current state of play, current priority activities and plans in the domain of establishing or strengthening inclusive labour markets (with particular focus on women, long-term unemployed and youth) and the importance of aligning skills with the needs of a dynamic labour market.
The dedication of Western Balkans countries to accession to the family of European countries, their demonstrated orientation towards peace, democracy, dialogue, cooperation and the creation of inclusive labour markets and societies in general, as key postulates of the cohesion policy of the European Union, has been recognized and commended. The participants noted that employment and social policy will have a priority position in the assessment of readiness for European Union membership.
The delegation of the Republic of Serbia also took part at the Conference of key stakeholders in the field of employment and social policy of Western Balkans countries and the European Union emphasizing, through thematic panels, the need and importance of strengthening dialogue, both with social partners and with representatives of civil society organizations, at all levels.
Source: www.minrzs.gov.rs