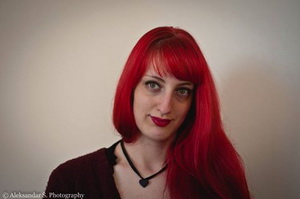 The transcript of the presentation by Milanka Lana Nikolić at the 31st Belgrade Ignite "My Society Loves Differences" (27 April 2015, Mixer House, Belgrade)
I wish to explain to you that young people with handicaps are simply – young, that there is nothing to be afraid of, that handicaps are something to be accepted in the most "laid-back" way possible. There are frequent clashes over whether the term "handicap" or "disability" should be used, so I would like to refer you to the website of the Association of Students with Handicaps, where you can read why the term "handicap" is correct.
You should not admire, applaud, or wonder over young people with handicaps. Young people with handicaps are doing the same thing you are – you give your best every day, right? – and there is nothing unusual about that.
"Wow, you're great!" – this is a sentence I hear regularly when someone gets to know me. If they dare approach me, since I have crutches, they wonder a bit, then say "Wow, you're great!" That is usually a sign they did not expect me to be great, because I have a handicap. This is a bad sign, don't say that. (…)
"You are so young, yet you have crutches!" – the usual sad statement when someone sees me. "You are 23, and have crutches, oh, poor child, what happened to you?" Nothing happened to me. My crutches are something I love and is part of my body, something I count as part of my "I". If you were to take my crutch, it would be the same as if you've cut off my hand. There is nothing bad or sad about it. If someone wants to try my crutches, they can do so any time, but they must ask me, because this is elementary manners: never take someone's aid, never lean on someone's wheelchair just because it's fun for you. (…)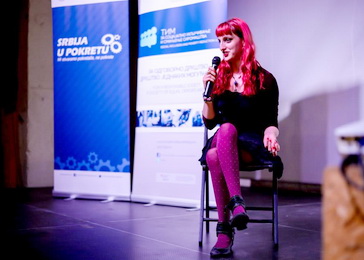 Someone is, first of all, a person, only then a person with a handicap. This is very important to understand, because handicaps are often linked with the fact that due to it you've achieved some kind of success, which is not right. Handicaps, in most cases, can be a drive, or you can understand them as an obstacle. Basically, they are not obstacles, you should instead, ultimately, look at them as something beautiful.
"We don't have a lot of persons with handicaps, I haven't seen them anywhere!" – I hope there aren't many among you who think like this. It is incorrect that we do not have persons with handicaps – we have plenty of them, but we do not have an accessible Belgrade, we do not have adapted buildings and public spaces. There are many persons with handicaps, make an effort to see them and not wonder at them, but be happy to see them. (…)
"You have a boyfriend?! Does he have a handicap, too?" – handicaps do not determine love. Many persons with a handicap have a boyfriend or girlfriend, but people do not assume this. If you have a partner, then it is presumed that they also have a handicap. With my own example I can ensure you that handicaps do not stand in the way of love, that love sees no limits, that a handicap cannot be an excuse and never is.
"Would you like it if you didn't have a handicap?" – of course I would, just like any other person with a handicap, I presume. The point is that I would not want it if it meant I would be changed as a person. If I did not stay the same me – no, thank you.