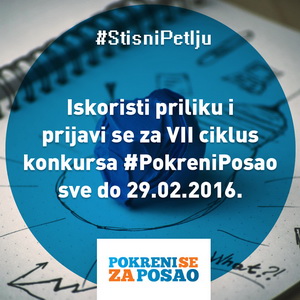 For the seventh consecutive year, 100 prospective entrepreneurial ideas will have the opportunity to be realized as part of the National Competition "Get Started for Business", due to the support of the Philip Morris Company.
"Get Started for Business" helps people with a good and sustainable business idea to start or improve their own small business with the aim of reducing unemployment and encouraging people to start their business. Entrepreneurship is the main driver of economic improvement in Europe and the world and it is recognized as the key part of the revival of the economy in Serbia.
The seventh annual "Get Started for Business" competition will last until February 29, 2016. Detailed information on the competition, how to apply as well as the application form can be found at www.pokrenisezaposao.rs.
Source: www.bizlife.rs