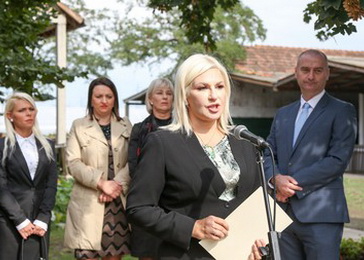 The Deputy Prime Minister of the Republic of Serbia and President of the Coordination Body for Gender Equality Zorana Mihajlović opened the Centre for the Empowerment of Women Victims of Domestic Violence, the second of its kind in Serbia, on 26 September in Sremska Mitrovica.
Mihajlović recalled that she was present last year for the opening of a safe house in Sremska Mitrovica, where 51 victims of domestic violence sought help during the past year and a half, assessing that the opening of the Centre for the Empowerment of Women is a significant step further.
Mihajlović expressed hope that the new gender equality law will be adopted soon, since this legal solution dedicates particular attention to combating gender-based violence.
Likewise, she added, the prompt adoption of the law on social entrepreneurship is also important, to enable the formation of economically sustainable social enterprises.
The Ministry of Construction, Transport and Infrastructure supported the reconstruction of safe houses across Serbia with RSD 10 million.
Source: www.srbija.gov.rs