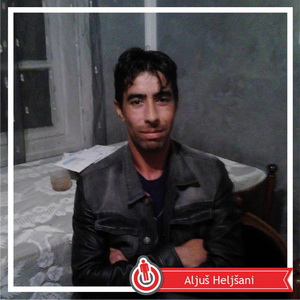 From the Aljuš Heljšani's presentation at the 32nd Belgrade Ignite event "Get Involved 3" (29 October 2015, Impact Hub, Belgrade)
(…) I will tell you how I built my home. Watching western movies as a boy, I saw how Indians put up their wigwams all over valleys and meadows. With my childhood imagination I concluded: hurray, I don't need a house! But, I think I was a bit wrong, because when I saw Custer and his cowboys expel those Indians, my imagination, of course, faded away.
As the youngest son in my family, I was lucky – according to the traditions of our population – to inherit my father's house. It was built of adobe and mortared in mud. (…) I collected second-hand building materials to add a room or two. I managed to do what I had intended, I reconstructed an old part of my house and added a new one, so I built my house up to a certain point.
As the icing on the cake, I was visited by a team of people from the Ecumenical Humanitarian Organisation (EHO). They had an incredible approach, they were very kind, and hugged my children as if they were their own. It is indescribable, like when a parachutist can't describe his jump from thousands of meters up high. By the way, the Ecumenical Humanitarian Organization deals with improving the living conditions of the Roma, provides construction and technical support (cement mixer, trolley, cables, other tools). Thanks to them, I now have a functional bathroom I can enjoy with my three children and my wife and we are all very happy because of that. We have flat walls and floors. My children are the happiest because of this – sometimes winter comes to my home in the middle of August, because they slide across the laminate floor like in snow. (…)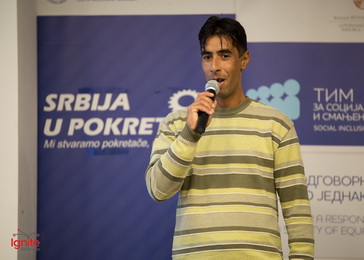 We had to do the work by ourselves, which is not hard when you have things to work and build with. For me in particular, this was not hard because I have worked in construction since I was 14. I started as a physical worker and now I am a professional painter and plasterer. I also work a little with ceramics and laminate flooring. EHO provided me with free tools for my professional needs so I work a bit more than I used to, I earn a bit more and I am not tied to various private firms, so I don't have to wait to see if someone will give me my salary at the end of the week or not, instead I work for myself.
Now I have enough time to play with my children; as we know, all children seek their parents' attention and I believe that a parent's attention is very important for their cognitive development.
I enrolled my children in karate class, not for them to become scoundrels and be the strongest, to be some kind of Van Damme or Bruce Lee, but to have a healthy body and healthy spirit. I also try and raise them to fit into the social environment because I don't want them to become children of the street or drunks. I'll teach my children so that one day – maybe even in a much bigger discussion and on a much bigger stage – they may say stop to war, stop to terrorism, stop to violence and stop to racism.