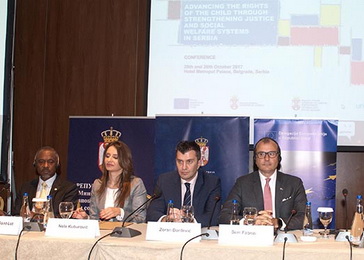 The two-day conference presenting implemented activities and the achieved results of the project "Improvements to the Rights of the Child through Strengthening the Judiciary and Social Protection System in Serbia" was held on 25 and 26 October in Belgrade. The Project is being implemented by UNICEF, in partnership with the Ministry of Justice and the Ministry of Labour, Employment, Veteran and Social Affairs of the Republic of Serbia, with the financial support of the European Union.
The conference was opened by Nela Kuburović, Minister of Justice, Zoran Đorđević, Minister of Labour, Employment, Veteran and Social Affairs, Sem Fabrizzi, Ambassador and Head of the European Union Delegation to the Republic of Serbia, and Michel Saint Lot, Director of UNICEF in Serbia.
Minister Kuburović noted that the project set one of its priorities as the efficient application of diversion orders and diversion measures of a non-penitentiary character, with the aim of strengthening personal responsibility among juvenile offenders and their resocialization into society.
"Every social community oriented towards the future and tending towards progress pays particular attention to children in conflict with the law and the community, and we can say that the treatment of this group is a kind of test of the humaneness of a society. Here we speak not only of children in conflict with the law, but also children who find themselves before the judiciary system in the role of victim or witness. In any case, the complexity of the phenomenon requires a multidisciplinary approach and the coordinated action of several social systems to prevent and mitigate negative consequences and provide the best possible support in the process of socialization and reintegration of juveniles", said Minister Zoran Đorđević.
The two-day conference, dedicated to improving the rights of the child through strengthening the judicial and social protection system, provided for an exchange of experiences and lessons learned in the field of application of diversion orders for juvenile offenders, the protection of child victims in criminal proceedings, improving the rights of children in civil court proceedings and strengthening the capacities of providers of free of charge legal aid.
Source: www.unicef.rs