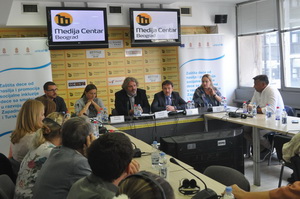 UNICEF and the Uzice Child Rights Center, with financial support from the European Union, today announced the launch of advocacy campaigns, which will be implemented in 20 municipalities in Serbia, to ensure improved response to violence against children.
The campaigns are expected to result in the upgrade of existing local protocols and agreements that explicitly target child protection, or the adoption of new ones in municipalities where they do not exist. The promotion of zero tolerance on violence against children and support for the full realisation of the rights of every child to be protected against all forms of abuse and neglect are at the heart of these advocacy efforts.
"In cooperation with all relevant institutions in targeted municipalities, we will try to improve the protocols in order to clearly define all forms of violence. We need to bolster effective coordination, the participation of all relevant institutions and organisations, the establishment of procedures for efficient response to violence, and the increase in the number of reported cases of violence, as well as the increase in the number of processed perpetrators," said Mr Radovan Cicvaric, Executive Director of the Uzice Child Rights Center and coordinator of the campaigns.
Despite the fact that the Republic of Serbia has ratified all relevant international Conventions, adopted strong laws and policies, and has put in place a network of services – violence against children persists. That is why it is of the utmost importance to build a strong system that will provide a prompt and adequate response to violence.
"We call on all relevant actors – the government and non-governmental bodies, decision makers and professionals within the social welfare, health care, and education systems, as well as the police, judiciary, opinion makers, and parents and children – to get engaged and to support these important campaigns to bring about positive change for children," said Severine Leonardi, UNICEF Deputy Representative in Serbia.
The European Union and UNICEF jointly work on promoting respect for human rights and greater effectiveness and inclusiveness of public services for vulnerable groups, especially children victims of violence.
"The EU is fully committed to the comprehensive protection and promotion of the rights of the child. We hope that this carefully designed campaign will raise awareness and bring to positive change for children in Serbia, lead to greater understanding of the human rights of the child and overall reduction of violence" said Nicolas Bizel, Head of Section for Justice, Home Affairs and Social Inclusion, EU Delegation in Serbia.
These campaigns are an integral part of the region-wide project "Protecting children from violence and promoting social inclusion of children with disabilities in Western Balkans and Turkey", which is funded by the EU and implemented in cooperation with the Ministry of Labour, Employment, Veteran and Social Affairs, the Ministry of Health, the Ministry of Education, Science and Technological Development, and UNICEF.
Source: europa.rs