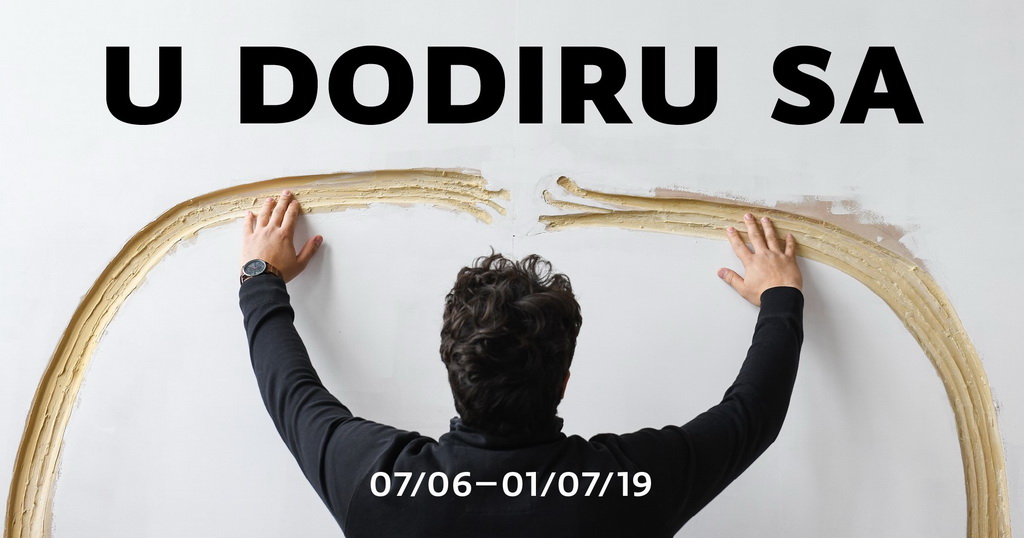 The exhibition "In touch with" was opened at the Museum of Modern Arts in Belgrade on 7 June 2019. It featured twelve pieces from the collections of the Museum of Modern Arts, accompanied by interpretation intended for blind persons and those with impaired vision, implemented by students from the department of Sculpture of the Faculty of Fine Arts in Belgrade. The interpretations were shaped through various artistic forms and media (from tactile and audio works, to performances and spatial, ambient installations), with the intent of faithfully transmitting the meanings, stories and experiences of the works from the Museum collections. The Museum, in accordance with contemporary museological standards, wanted to make its collections accessible for people deprived of the sense of sight, and all those ready to engage in the adventure of exploring the artistic heritage of the 20th and 21st century in an interactive manner.
The works interpreting pieces from the Museum collections are the results of intensive and interdisciplinary research with the participation, in addition to students, by their professors Mrđan Bajić and Radoš Antonijević, Museum of Modern Arts curators Katarina Krstić and Senka Ristivojević, and Boris Dončić, librarian and editor of the studio of the Library of the Association of the Blind of Serbia "Dr Milan Budimir", with the assistance of colleagues from the Association of the Blind of Serbia. The question they sought to answer was: how to interpret, or bring closer a piece of visual art to a person that cannot see?
The student works refer to the works of authors that, among others, defined the artistic scene of our region, these being Kosta Miličević, Rihard Jakopič, Vane Bor, Pivo Karamatijević, Ivan Tabaković, Petar Lubarda, Radomir Reljić, Bora Iljovski, Petar Omčikus, Zoran Popović, Tomislav Peternek and Vladimir Miladinović.
In addition to interpretive works by students of FLU, the exhibition was accompanied with captions adapted for persons with impaired vision, and captions printed in Braille. Furthermore, each exhibited piece was accompanied by an audio description of the piece and information on the author and piece, available as a recording, and downloadable through the Guide Me app by reading off the QR code located next to each piece. Along with these didactic tools, the exhibition area was marked using tactile paths to facilitate orientation and movement of the blind and vision-impaired audience.
Participants in the exhibition included students of the Faculty of Fine Arts in Belgrade: Katarina Bošković, Luka Cvetković, Bogdan Đukanović, Filip Đukić, Katarina Jovanović, Ana Marinković, Jelena Mirković, Konstantinos Patelis Milićević, Andreja Prokopijević, Marija Tomić, Sabine Vedege and Nikita Živanović.
The exhibition "In touch with" was open until 1 July 2019.
Source: www.msub.org.rs