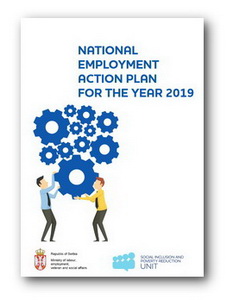 The National Employment Action Plan for 2019 (NEAP), adopted by the Government of the Republic of Serbia on 27 December 2018, plans for the inclusion of over 136,000 unemployed persons in active employment policy measures, securing RSD 4,000,000,000.00 from contributions for mandatory social insurance for unemployment, RSD 550,000,000.00 from the Budget Fund for professional rehabilitation and incentives for the employment of persons with disabilities, and RSD 206,583,000.00 from a direct grant awarded to NES from the IPA 2013 programme cycle.
The inclusion of unemployed persons in active employment policy measures will be done based on an implemented assessment of the employability of persons, while the priority for inclusion in the measures will be given to categories of harder-to-employ persons, i.e. youth up to 30 years of age, redundant employees, persons older than 50, persons without qualifications or with low qualifications, persons with disabilities, Roma, work-capable beneficiaries of financial social assistance, long-term unemployed (on the records for more than 12 months, particularly unemployed persons seeking work for more than 18 months), youth in institutional accommodation, youth in foster families, youth in guardian families, and victims of domestic violence. Active employment policy measures envisaged by NEAP will be implemented at the national, provincial and local level.
In addition to the Ministry of Labour, Employment, Veteran and Social Affairs and the National Employment Service, as the principal parties for NEA activities, participants in the implementation are the Ministry of Education, Science and Technological Development, Ministry of Youth and Sports, civil society organizations, social partners and other institutions.
Click here to download the National Employment Action Plan for 2019 (.pdf).