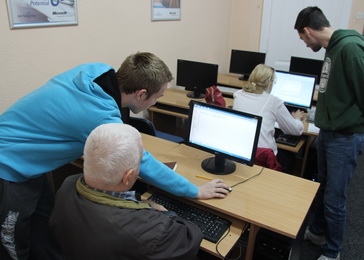 The concept of learning based on intergenerational cooperation is being developed through various programmes at the IAN Telecentre. One of the most important programmes is "Silver Surfers", wherein young people help older persons gain knowledge in the field of information-communication technologies. This initiative engages young people who are part of a wider resocialization programme in a day-care centre for children with behavioural problems in IAN Telecentre. They teach pensioners the basics of computer and Internet use, having first attended computer courses themselves and having developed their digital skills.
This is a model of transferring knowledge contributing to the benefit of both young persons and pensioners.
Pensioners described young people who taught them as "phenomenal, eloquent, excellent, patient". They are thrilled with this course and their teachers. The experience of this form of community service in IAN Telecentre, with a number of other support and treatment services intended for young people with behavioural problems, some of whom have problems with the law, results in positive changes in their behaviour.
The fact that such an important role, like teaching others, is assigned to them, positively influences the development of young people's self-confidence and gives them an opportunity to develop their abilities, contribute to the community, build skills that can be beneficial to them in other fields of life as well as to be teachers and mentors to others, at the same time avoiding negative forms of behaviour. This form of practice enables them to develop and show their skills, gives them a meaningful role in society that contributes to the welfare of others.
The "Silver Surfers" programme is not only an excellent example for the social inclusion of two social groups often found on the margins of society (the old and young with behavioural problems) by using computers, but also an example of how two generations can transfer knowledge to each other and benefit from intergenerational cooperation and learning.
The activities presented in this article are being implemented through the support of SHL and UNICEF.
Source: www.telecentar.rs